'Are we trying to get the gospel to every tribe, tongue and nation?'
Ben Greene
Pastor & writer
---
Ellen Schotanus almost burned her dress with an iron after Pius Tih finished speaking.
The Schotanuses had welcomed Tih to stay with them. Their church received the Cameroonian man as their speaker for a church mission conference. In between church events, Tih told Ellen and Thom that God wanted them in Cameroon as full-time global workers.
Thom was stunned into silence.
"He was quiet, and he's never, ever quiet," Ellen said of Thom's response to Tih in 1997.
Tih didn't know that God had been working to stir them, especially Thom, to consider a vocational change. He loved what he was doing as a general contractor. But he had been reflecting on his priorities before Tih even arrived.
Related: Ted and Nita Bukowski, now serving in Albania, needed time to discover God's plan
Four years later, Thom and Ellen were in Cameroon, beginning a legacy of ministry that utilized skills they had plus abilities they'd yet to recognize.
They ministered there for 16 years until civil unrest in 2017 forced them to leave. Now, from the U.S., they continue transforming lives and making disciples through their partnerships and friends like Joseph Ngam.
Beginning a legacy of good for Cameroonians
Ngam worked as the Mbingo Baptist Hospital's senior administrator when the Schotanus family arrived. He immediately noticed how active they were in serving the Lord and the community.
"They are a very caring couple, especially to needy persons," Ngam said. "Their love for people is indiscriminate."
Ngam said the couple live as ambassadors of Christ and started a legacy that will remain. While in Cameroon, they built relationships with government leaders, village heads and residents to address practical needs like clean drinking water.
Thom's background as a general contractor complemented his main ministry goals of church planting and discipleship. Spirituality in Cameroon includes Christianity, Islam and African tribal faiths. Regardless of religion, he said many people blend their spiritual ideas or don't have a deep commitment to their beliefs.
"We wanted to be involved in discipleship and church planting," he explained. "The objective is not about development. We didn't want to do technical things that were meaningless for God's kingdom."
There are opportunities and widespread needs for education, health care and infrastructure improvements in Cameroon. Thom and Ellen have sometimes helped with those since they arrived in Cameroon. For example, they helped set up schools and guided the hospital in renovations and additions to improve services.
"I had a lot of experience that directly related to the work I was called to do over there," he said.
However, people from other countries cannot safely travel everywhere in Cameroon. Still, Thom said, global workers can make disciples in some regions. While thankful to help people however they could, the Schotanuses' goal is a gospel movement through national leaders among the least-reached peoples in Cameroon.
"Our avenue into reaching the unreached is developing a heart to reach the unreached in nationals," he said. "They can go places we can never go."
Related: From Scattered to Gathered is a Converge initiative among the world's diaspora.
Equipping Cameroonians to be a city on a hill
Since 2017, Thom has focused on connecting with Cameroonian leaders to support their growth. He wants them to believe that, as believers, they can impact their culture by understanding the Bible and applying it to every area of their life.
"They can make disciples and bless Cameroon," he said.
As an example, Ellen started teaching a few kids to read. First, Ebenezer Tata, a chaplain, and his wife, Ancella, chose Ellen to teach their four children. Next, three more kids joined in.
Then, kids started inviting other kids. So, Ellen gained a few more students here and a few more there. Within a few weeks, she had 25 students. Finally, more kids wanted education than she could teach, so the community created a new school.
Those kids have grown and become adults. Many have studied at universities and returned to Cameroonian communities. They have become journalists, engineers, nurses and pharmacy technicians, among other valuable societal roles.
"They're doing great things for their country," she said.
A new direction into discipleship and church planting
That chaplain who connected young students to Ellen helped her and Thom find a path into pastoral work among Cameroonians.
Chaplain Tata had started a church on a steep mountain. The Schotanuses went to his church. Then they noticed another village way down in the valley.
"Is there a church there?" Thom asked Tata.
The chaplain said the village's chief closed the church after a church split, which stirred up arguments in the community. However, a lay pastor committed to reopening the church and Thom wanted to check out the opportunity.
Related: Would you believe a village chief in another part of Africa would ask for a church?
Down the mountain and through the stream
The Schotanuses had to make an odyssey through rugged country to worship at the reopened church in Baicham. But, first, Thom had to drive their Africa-grade 1994 Toyota Hilux outfitted with skid plates and a solid axle down a mountain.
"Talk about four-wheeling," Ellen said of the drive from their community to Baicham.
Still, the truck could only take them so far. When they could drive no more, they had to walk. Sometimes, they had to hold hands and wade through a stream.
The driving and hiking were worth it, the Schotanuses say, because God mightily uses the pastor, Johnson Mbi. Eventually, the church was such a positive experience in the community that the village chief asked Mbi to go to seminary and get more training.
Related: Powerful discipleship is happening in China as pastors train in secret
"[Mbi is] one of the best preachers I heard in my life," Thom said. "Mbi was giving everyday life application to his sermons."
Sometime later, people from Saicham, a bush village 45 minutes away, started worshiping with the congregation in Baicham. So, to help make disciples in Saicham, Thom and Ellen helped start a church a year later in that village.
Related: Converge global worker helping South American church planters make disciples
The church of Kom-speaking people in Saicham now has the New Testament in their language.
"People started crying all around us," Thom said when they first heard God's word in their language. "They said God is speaking to us in our language."
Do not just be hearers of the word
The Baicham church had about 30 people in a village of 80. The book of James changed the community when the people started studying God's word.
At first, church members didn't realize they could apply the teachings of James to their lives. But, over time, as Thom studied the word with them, they believed they could act like disciples who showed their faith through their good deeds.
So, the people worked together on a clean drinking water project. They received financial support from the Schotanuses' partner churches for initial construction. At the same time, the community agreed to do the labor and maintain the water purification system.
The village completed the project in six months, laying three miles of pipe. Each village family regularly sets aside 20 cents to pay for upkeep.
Related: "We aren't anything special, so God can use us."
Patrick Lienwotue is a government official in Cameroon who Thom has helped grow spiritually and professionally. Lienwotue said Thom disciples many government leaders and business professionals who, in turn, act with Christian integrity and priorities.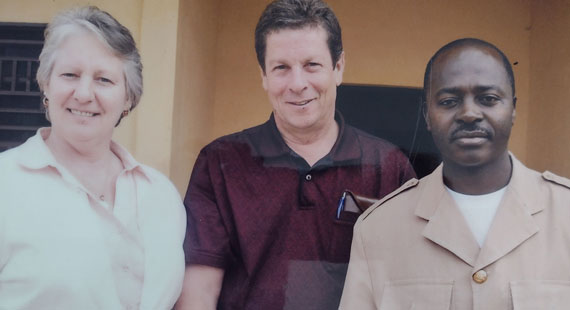 "Thom inculcated the spirit of self-reliant and sustainable development on many communities in Cameroon through the participatory realization of essential community projects," Lienwotue said. "Many communities can now initiate, realize and manage their own projects through community development associations."
David Ntam is a nurse anesthetist who worked at the hospital where the Schotanuses started their ministry. He said water projects provide young boys and girls with jobs to maintain the water system.
He said these water projects also helped lepers in a village serve one another. As a result, the lepers could more easily find and share clean drinking water. Thom and Ellen's relationships in the community, Ntam explained, have transformed villages so people will "be one another's keeper."
Cameroonian boy goes from receiving to giving
Another work of God happened in Denis Ndokuo's heart and life. Ndokuo attended the Mbingo Integrated School for the Deaf, which Mbingo Hospital started. Ndokuo is now the director at Christ for the Deaf International in Cameroon.
Ndokuo was one of Ellen's students learning to read and write in the early 2000s. Then, Ellen ministered to his spiritual needs while she helped him succeed in life. Now, Ndokuo is giving back to deaf kids from various towns and villages in Cameroon.
Related: "Now is the time to reach all Deaf people everywhere"
Lienwotue also recognized the power of Ellen's teaching skills on many children who are now adults.
"Ellen left an indelible impact," he said. "Her ideas [for education] are now being directly and indirectly copied and implemented."
The work goes on
The Schotanuses never expected to be global workers. They didn't think they were qualified to do foreign service.
But then a Cameroonian guest speaker stunned them, and they discovered they had abilities and passions for eternal priorities. As their ministry continues, God works through them to disciple least-reached people groups.
Related: Converge has dedicated staff to support global workers in hard times.
To Thom and Ellen, the Scriptures are clear: Everybody needs to be a global worker because the church can be mature and transformational, serving God where there are churches and especially where there aren't churches.
"Are we trying to get the gospel to every tribe, tongue and nation?"
Converge is asking God for a gospel movement among every least-reached people group – in our generation. Learn how we are playing a role in accomplishing the Great Commission and how you can be involved.
---
Ben Greene, Pastor & writer
Ben Greene is a freelance writer and pastor currently living in Massachusetts. Along with his ministry experience, he has served as a full-time writer for the Associated Press and in the newspaper industry.
Additional articles by Ben Greene