Building a different kind of shelter
Ben Greene
Pastor & writer
---
The Mimbs family in Florida has a tradition of putting a roof over somebody's head.
Joey Mimbs' grandfather first worked as a roofer. Over time, his dad, brother, uncles and cousins have all also worked in roofing. Joey's dad eventually owned his own roofing business.
But, on a Wednesday night when Joey was 10 years old, he found out he wasn't going to be a roofer. He and his family were at their church, a new congregation in Florida, when the realization hit him.
And even though roofing was the path others had taken, Joey's parents always supported his obedience to serving Christ outside the family business.
"My dad knew God had called me to the ministry," Joey said. "So, I wasn't going to follow the family tradition."
Marvels and messes led to this moment
Joey met Carol King when they were students at Tennessee Temple University. One day, while walking across campus, he was praying for a wife that was "a lady."
A few moments later, a young woman walked past. She was wearing white gloves and a long cape with white fur at the hem.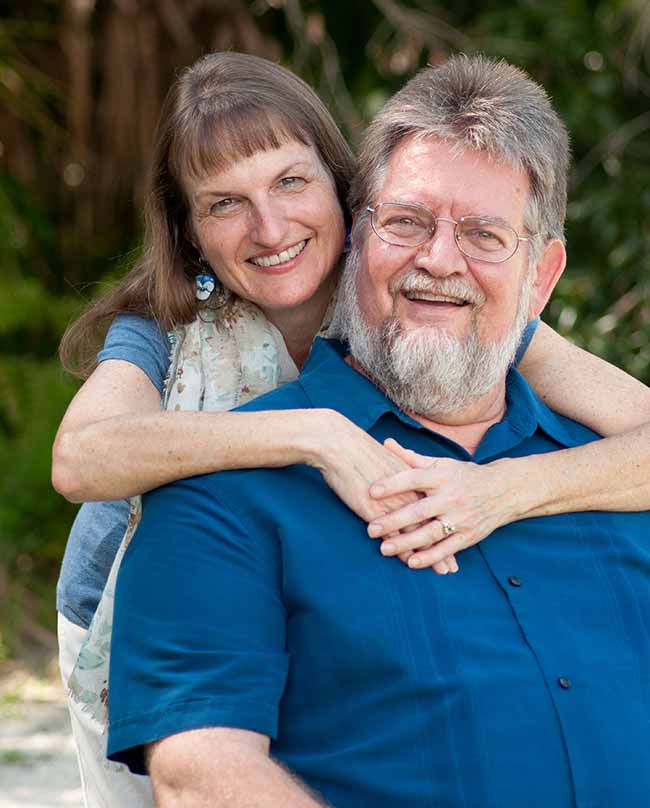 "I said, 'Lord I want to marry someone like that right there," Mimbs recalled.
Even so, Joey and Carol nodded at each other and continued in different directions.
Until the following summer.
Carol and her family went to Florida. While there, they worshiped in the Mimbses' home church. As people at the church met the Kings and learned Carol was a student where Joey also studied, they asked if she knew him.
She recognized his face from college but hadn't met him.
At that time, she believed she would never get married. She was called into ministry as a teenager serving with Child Evangelism Fellowship. Within two weeks of her call, her parents also sensed God's invitation into ministry for their vocations.
However, sitting in that Florida church, something in Carol's heart gently undermined her prediction.
"I heard myself think, 'I want to marry somebody just like him,'" she says now.
The two married and now have three adult children. Carol still has the cape she wore the day they stepped past each other. They began to walk together in ministry when they joined a church planting team in Utah in 1992.
Even though the Mimbses left the church and its children's ministry and radio station, that ministry continues. People were coming to Jesus and worship was happening. Yet, at the same time, the Mimbses had challenges without feeling supported by their sending organization.
Related: Everything you need – support and resources for Converge church planters
After two years in Utah, they returned to Florida with some hurt in their hearts. This pain planted a seed, though, which would grow under the Lord's watchful care.
Staying in ministry and finding their spot
In 1994, Joey's home church hired him as associate pastor. Then, in 1999, he became an associate pastor at a Converge church. The movement was a community of Christ-followers new to them.
"We just found our spot when we hit Converge," he said. "We kind of wondered why we had never heard of Converge. We felt like we found our home."
Related: Partners on the same mission – how to join Converge
Six years later, Joey became the senior pastor at the same church. The Mimbses always loved global workers throughout those years and waited for the Lord to use them in international work.
Five years ago, God invited them into missions with a role that is perfect for their experiences and passions: member care. How their role developed shows God impacts large groups by inviting individuals into personal and powerful endeavors.
Related: How to become a missionary with Converge
"That came out of our difficult leaving of Utah and having a heart for missions," he said.
Offering what they didn't fully receive
In 2016, many Converge global workers gathered for a summit. During one meeting, Converge leaders intentionally talked with international workers about what they needed. They requested that Converge form a member care team to pastor and support global workers.
When Converge asked Joey and Carol to pray about joining the new team caring for missionaries, the seed God had been nurturing was ready.
"We didn't really need to pray about it," Joey explained. "That was our heart. That's been our heart and passion all along."
Related: Why member care (video)
As member care staff, they serve several dozen global workers.
"We want our global workers to be spiritually, emotionally and relationally healthy and strong as they start and strengthen churches," he said. "We are still pastoring. Our congregation is spread out over Africa, Europe and the Mediterranean."
Whatever the app, the Mimbses are listening
The two stay connected with brothers and sisters in ministry through their cellphones. They receive about 30 messages a day from global workers, on top of the two or three scheduled meetings they have every day.
Some connections are short and quick: "Getting on a plane ― please pray." Others are much more urgent, revealing a need for compassionate concern and quick engagement.
"Global workers have all the same struggles we have, they just have them overseas, cross-culturally while learning a foreign language," Joey explained.
This includes essential meetings at work and loving others well during conflicts, health concerns and family stressors. Moreover, Converge global workers can be isolated from family, friends and believers, separated by language and custom from a supportive community.
Related: Reaching out to share the gospel worldwide
At the same time, the Mimbses believe global workers are on the front lines of ministry and have unique experiences. That's why they're glad to support Converge staff with listening, prayer and referrals when that's beneficial.
"We're a special supply line so they're heard. They all have a story to tell, and they need to tell their story and be listened to," he said. "We're there to listen to their story ― the 'yay God' part and the struggles."
That's why the Mimbses utilize FaceTime, Zoom, WhatsApp, Microsoft Teams, email, phone calls and text messages as often as necessary. They're committed to Converge International Ministries' vision for gospel movements among the least-reached.
Now, after five years in member care, the couple is walking together with those directly serving the least reached.
"Through that process, we want to also be asking, 'How's your heart and soul through all this?'" he said. "If you're having a great day, let us know and we'll rejoice with you. If you're crying, come cry with us. If it's a day where you just need to growl some, growl with us."
Related: Setting the table for friendship evangelism (One Converge global worker's story of pain and joy)
Some Converge global workers in Europe have done all of that with the Mimbses. They feel like outsiders no matter how much they integrate into the new culture. As a result, sadness quietly tinges their lives.
"We're young missionaries, and they've weathered the storms with us," Katye Lowery, who serves with her husband, Will, in the United Kingdom. "From PTSD, to denied visas, a miscarriage and the challenges of maintaining a healthy marriage and raising two young children while raising support and moving internationally multiple times, they have been there for us.
"We're so great to have them and the Converge team," Lowery continued. "Few people are able to relate to the various challenges our family faces. The Mimbses get it and are filled with compassion and empathy in our challenging situations."
Another Converge global worker in Europe (whose name is withheld because the worker is in an unsecure area), echoed Lowery's thoughts.
"It is so refreshing and comforting to know that wise and understanding support is just a phone call away," another Converge global worker couple serving in Europe said. "Joey and Carol's past experiences have enabled them to truly understand the unique challenges and joys of missionary life."
Rejoicing, crying and growling with global workers raises a roof that the Mimbses' family business could never build. Joey and Carol are creatively continuing the family tradition: They're still creating shelter for God's servants, working together, so more people can meet, know and follow Jesus.
Converge International Ministries is praying for a gospel movement among every least-reached people group – in our generation. Learn how your church can help more people around the world meet, know and follow Jesus.
---
Ben Greene, Pastor & writer
Ben Greene is a freelance writer and pastor currently living in Massachusetts. Along with his ministry experience, he has served as a full-time writer for the Associated Press and in the newspaper industry.
Additional articles by Ben Greene

---