Witch doctors asking for churches
Ben Greene
Pastor & writer
---
The village chiefs in Togo and Benin in West Africa often share two traits: wealth and witchcraft. As such, their perspective is often sought, their power seldom challenged.
Voodoo is as natural as the sandy shores and ocean views in Togo and Benin. Idols with their dark power and destructive forces seem to reign here. Aného, Togo's capital, and Ouidah in Benin are the birthplaces of voodoo.
Every building in Aného has an idol buried under it. Behind every home in Aného, people go and communicate with the demons behind crafted idols. In addition, many witch doctors use their profits to buy more land, thus intensifying their influence.
So why would the chief of Kounte Conji ask a Converge pastor in that community to meet? A positive outcome seems unlikely.
No matter to pastor Étienne. The confidence of Christ filled Étienne's heart. He is a new pastor who started a church in Kounte Conji.
"In the last two months, we've seen at least 200 people come to Christ," Josh Freeman said of the church in Kounte Conji. He joined the 6 Degree Initiative to make disciples among least-reached peoples of Togo and Benin.
Related: From idol worship to gospel movement
The 6 Degree team prioritizes researching communities that need churches. Then, Freeman and others review available properties to establish a church. Real estate purchases can be a headache for anyone navigating the zoning restrictions, the price negotiations, the comparisons of different properties.
Even more so, in Togo and Benin, putting a church on land that once belonged to a witch doctor is a spiritual struggle. Togolese churches need to own the land, or else a witch doctor could stop renting land to the church.
What are the roots of this spiritual struggle?
Power and fear drive everything in Togo, says Stephanie Alderman. She came to Togo at two years old; her parents have been missionaries there since 1989. That's how she and her brother, JJ, came to Togo in the first place.
"Fear is at the root of voodoo," she said. "Even when you're the shaman, you're controlled more by voodoo and you still have fear. It's not a hopeful religion."
Every September for more than 300 years, a treasured festival of voodoo – Ekpe Ekpe – has happened in Togo. Men and women dressed in white clothes, their necks wrapped in beads, some of them even wearing crosses, call out and dance to the beat.
Christians often believe in the spiritual power of witches, such as the witch of Endor in 1 Samuel. However, many Western believers might not know the same spiritual encounters happen every day among the Togolese.
Related: Choose Jesus. Choose life.
Moreover, nine of 10 people in Togo have never heard a clear gospel presentation, JJ Alderman said. As a result, they remain in the spiritual deception that dates back centuries. Plus, voodoo has now spread through slavery and colonialism to Haiti, Brazil and parts of the United States.
"The reality is that people in this area have a four-hundred-plus-year history of bondage," said JJ Alderman. "Their spiritual bondage has been much longer than that."
The Converge team could feel the satanic push back
Stephanie and a team recently went to The Way of Christ camp to serve kids. That's Stephanie's specific emphasis in Togo. She's passionate for young girls to realize their value.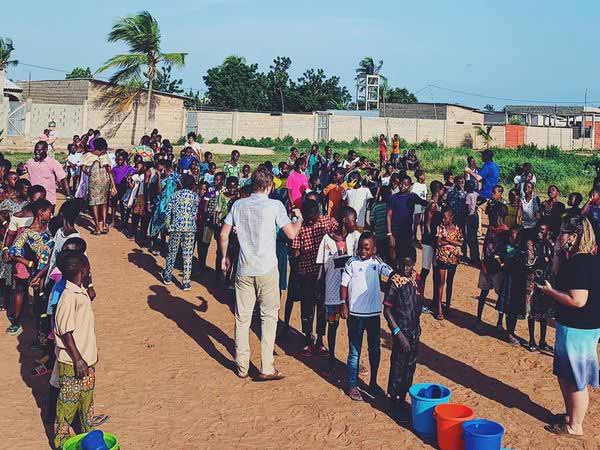 But, at the camp, something powerful was unfolding. Children asked about Jesus because they had never heard of him. At the same time, the team was also sensing real push back from Satan. So, they asked their prayer team around the world to ask for God's presence and victory over the evil influences.
Related: A major prayer movement is beginning across Converge
There is a Zoom prayer gathering for the 6 Degree Initiative every Tuesday. Anyone who is interested may sign up for any of the Converge prayer networks that pray for specific Converge International Ministry initiatives such as the 6 Degree Initiative.
Related: What missionaries desire most
"God sent out his power and 50 kids were saved," Stephanie Alderman said of the prayers' help. "The power of prayer is in what happens. God totally took over in the best way."
Buying land for new churches generates spiritual warfare
Converge has a few dozen staff in Togo, so God's influence throughout Togo and Benin continues to increase. Plus, people can serve as short-term global workers or interns.
JJ Alderman and his wife, Melissa, started New Life Church with a national pastor to lead the ministry. For the first 10 years, every believer was a new believer, JJ Alderman said. About seven years later, leaders at New Life Church planted a second church.
The indigenous Christians in Togo and Benin have developed some competency for ministry, giving Converge staff new roles and opportunities. Recently, the Converge team gathered with local church leaders, many of whom didn't realize there are 17 churches in Togo. Coming out of that gathering, the leaders committed together to pray and pursue 50 new churches.
Related: Why the future belongs to churches that send
After decades of faithful work, Converge has created today's Togolese pastors who embrace church planting. More churches will create spiritual warfare as those pastors and Converge global workers buy property from wealthy village chiefs who often work as witch doctors.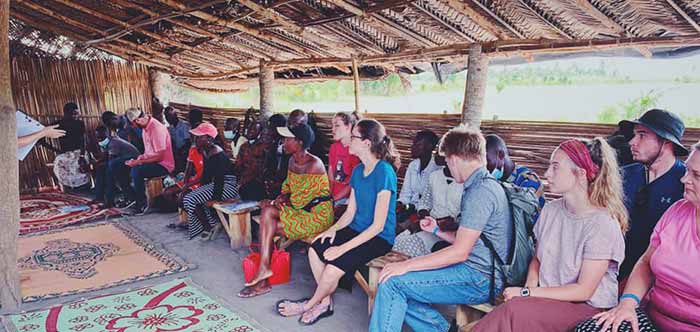 Buying land is still critical, though, because most witch doctors wouldn't support renting their land to a church for long.
"We need to purchase this and really own it," said Josh Freeman. That way, the land's ownership is stable and can endure for generations of God's work.
"You'd think [buying land] is the easiest 'no' but every time, we get to plant a church," Freeman added. "We are still seeing God continually go before [land purchases.]"
They currently have two requests from a village chief to start a church in a new place.
"The harvest is plentiful," Freeman said. "People are asking for churches, not even knowing what they're asking for. We've got to train more disciples and leaders and get them in those areas," Freeman explained.
How can you get more leaders and disciples?
Historically, Francophone countries like Togo and Benin have been slower to receive the gospel. But seeing Christ set people free from voodoo and a muddled spirituality doesn't take centuries or a lifelong call, JJ Alderman explains. Great progress is possible through believers who listen for a motivation or apply their competencies to new opportunities.
Christ-followers who have administrative gifting have been serving the initiative thanks to web meeting apps. Someone can work in America and have scheduled, part-time hours serving missionaries on the field who need administrative support, JJ Alderman said.
Related: Reaching out to share the gospel worldwide
Another opportunity to assist the people of Togo is sharing leadership skills. The indigenous church leaders receive significant benefits from experienced leaders, whether in business or ministry.
"A person doing ministry in the states could have 10 times the impact (in Togo) because the reach is wide," JJ Alderman said. "The leadership bench is so shallow that their voice is magnified."
This is true for people confident in business settings: many of the same principles for entrepreneurship and developing leaders applies in Togo.
Additionally, people who've served in church or have ministry degrees such as a master's of divinity have a tremendous opportunity. For example, 70 pastors study at three centers around Togo. Plus Converge helps strengthen education at the Faculty Biblique du Togo. That school offers a bachelor's degree for pastors. Then, the pastors can study at a seminary.
"We can't develop leaders fast enough for the ministry that's happening," Freeman said.
Even witch doctors can see the difference Christ makes
What witch doctors can't deny is the difference Christ is making in people's lives.
"They understand that there's something different about a Christ follower," JJ Alderman said. "[Christians are] walking by faith and it's changing their lives, their families, their communities. We are seeing the light going forward."
That light shines brightest in the dark place where voodoo is such a challenge to people's well-being. Voodoo creates the exact opposite of the abundant life Christ came to give.
"What we are seeing is when people have destitution in life, they have no other option. There is no other choice to turn to. It's Jesus or Jesus," he said. "They will say they're going to trust God because they've seen what Satan can do."
Related: Strict vigilance and strong faith in China
That's true for Étienne as well, going into his meeting with the village chief. Freeman saw idols and signs of voodoo again and again when he visited the village in August.
But more than 150 people are attending the church. They're drawn to knowing Christ and seeing what a difference the hope of the world makes in a culture of fear.
The birthplace of voodoo can become a place where people are born again into a living hope, Jesus Christ. To help that happen, the 6 Degree Initiative is planting churches, training pastors and serving the next generation.
"We're asking God for 190,000 disciples from 10 unreached people groups," JJ Alderman said. "We want to see the fruit of this in 50 years."
What happens when voodoo and Christ's influence fill the same room?
When Étienne and the chief meet, the pastor hears some surprising words, especially from someone entrenched in the power structure of voodoo.
'I'm seeing all this change in the village,' the witch doctor told him. 'People's lives seem different.'
The next sentence, which Étienne later shared with the Converge team, aimed at the new church pastor.
"It seems to be connected to you," the village chief said of the change.
The chief's next comment left no room for doubt that spiritual warfare had begun.
'We want you to come plant a church in our village,' he said to Étienne.
Converge International Ministries is asking God for a gospel movement among every least-reached people group – in our generation. The 6 Degree Initiative is among a growing number of regional initiatives to help support this vision. Learn more about how you and your church can partner with Converge to help more people around the world meet, know and follow Jesus.
---
Ben Greene, Pastor & writer
Ben Greene is a freelance writer and pastor currently living in Massachusetts. Along with his ministry experience, he has served as a full-time writer for the Associated Press and in the newspaper industry.
Additional articles by Ben Greene

---