Strict vigilance and strong faith in China
Ben Greene
Pastor & writer
---
Thirty men ― each a true brother ― secretly train inside a basement chosen so the men can evade detection or escape discovery.
Some of these men traveled two days on a train to prepare with the others. They invest 15-hour days together in a secret room to train and form deep partnerships. The effort emphasizes the value of this basement, which has multiple exits.
"They are very hungry to learn," said Phoenix. "It's a lot of sacrifice just to go to a training spot, so they are very hungry to get the most out of it."
That's what drives them into the basements. Or, when no basement is available, buildings in very rural areas. Wherever they are, every man listens for footsteps or a knock on the door.
"We have to do it in a very secretive, safe location," Phoenix said. "We will pick locations that ― once you come out of the basement ― have multiple exits. So that, if authorities come knocking on one door, [the men] can run out all the other doors."
If getting out a door, any door, won't work, the men are trained to jump from a second story window and land without being injured.
"It is not just head knowledge," Phoenix said. "We call it practical training for them."
What's the purpose of the secret training?
What happens inside the building ― training Chinese Christ-followers to share the gospel among the unreached Hui people ― demands strict vigilance and strong faith.
China restricts such training to make disciples who make disciples. There are as many surveillance cameras in China as there are people, explains Mao. Authorities set up cameras outside the front door of homes.
Related: Hear, near and far
Mao and Phoenix are Converge global workers who train other Chinese Christians to reach the overwhelmingly Muslim Hui people. The couple are foreigners in China, coming from another Asian nation.
Because of COVID-19, China and other Asian countries have placed apps on everyone's smartphone. Now, governments in China can track where people have been. From that, authorities can trace their contacts moving throughout China.
Mao and Phoenix see the benefits of such an app for responding to COVID-19. But they fear the app will challenge their ability to do ministry. Now, the authorities may know who they have met with and where they have gone, no matter how secretive the basement or rural the building.
Another challenge is local Chinese can report foreigners doing religious work. Such informers can receive a reward equal to $10,000 in Chinese currency.
"We need a lot of wisdom and direction from God about how to do ministry," Mao said.
The plan was a career in computers
Several years ago, at a school on the West Coast, Mao and Phoenix were studying to advance Mao's career. His degree work was preparing him for a career in computers.
They were growing in their faith. However, serving outside their Asian birthplace wasn't in their plans.
No matter: God directed Mao and Phoenix to this work while looking at a world map.
"The speaker gathered us together and he laid out a world map on the floor, a huge one," Mao explained of a retreat they took. "Ask the Lord to put some prompting on your heart and reach out your hand to that country. Begin to pray that God would use you or send you to that country," the speaker said.
Related: How you can engage the world's least-reached peoples
Mao and Phoenix had friends and acquaintances from Taiwan and China on the campus where he was studying.
"For some reason, God put that burden on my heart, to place my hand on the country of China," Mao said.
"Lord, if you would in the future, I'm willing to go to China," Mao prayed.
How did willingness become a clear call?
In the 1990s, Mao and Phoenix took a course about missions. They thought they would serve the majority population of China, known as Huns. However, during the course, they were assigned to do research on an unreached people group in China.
"We chanced upon the Hui people group," Mao explained. "This is a huge people group and they have very few workers. God began to direct to our hearts to be focusing on this unreached people group."
The 13 million Hui ― more than the populations of New York City and Los Angeles combined ― make up the largest Chinese-Muslim people group in east Asia. The number of Hui following Christ is fewer than 400.
Moreover, there are fewer than 100 global workers serving among them. There is one other from outside China on Mao and Phoenix's team.
That's why Converge's International Ministries department started the Hui Initiative. About five years ago, Converge staff observed and analyzed the organization's global work. Then, Mao and Phoenix said, a new approach began to focus on unreached people groups.
How does history and Islam influence the unbelief of the Hui?
Persian and Arab traders came to the western parts of China centuries ago. They brought Islam into China through the Silk Road, an economic corridor of ancient trade. The Hui look and speak Chinese. But they don't eat pork ― the most common meat in China ― and they embrace the teachings of Mohammad.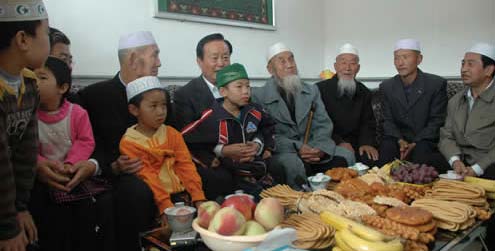 The Hui face a unique challenge to surrendering to Christ as Lord: their identity is intertwined with their religion. Therefore, Hui believe that changing their religion is losing their identity.
The same barrier exists for the Thai people, of whom many say 'To be Thai is to be Buddhist and to be Buddhist is to be Thai.' Learn more here about the Converge initiative among the Thai people.
Related: Escaping the wheel of suffering (Thailand Initiative feature story)
"That is a huge challenge for the Hui people," Mao said. "When we are reaching out to the Hui people, we do not say, 'Hey, would you convert to Christianity?' We have been going to them to [make them] aware of Jesus. We use many Arabic terms or terms from the Quran to share stories about Jesus."
Mao and Phoenix said the Quran references Jesus more than Mohammad. But the Hui simply see Jesus as a prophet.
"Many of them do not do Quran study and they do not know much about the Quran," Mao said. "They would go to their imam for whatever they want to find out."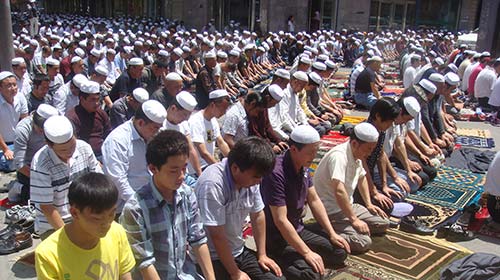 Instead, Phoenix and Mao try to quickly help Muslims consider New Testament Scriptures about Christ. They use the Old Testament prophets the Hui already know and then connect those figures to Christ.
Related: "A chance for God to grab their heart"
"The overarching story we are telling is the sacrifice story," which Mao noted is common to the lives of Adam and Eve, Abraham, Noah, Isaac and others. "We are often telling the stories, leading up to the sacrifice God made of his Son."
How is Converge working toward a future for the Hui?
To help the Hui find new life in Christ, Converge leaders seek 10 churches to pray for the Hui and serve among the Hui as soon as possible.
This includes opportunities to help form groups of Muslim-background believers that meet weekly. Partners are also needed to establish long-term relationships in Hui communities.
Related: Converge Global Prayer Networks
Together, these goals can start a gospel movement among the Hui. Then, the ultimate goal will be achievable: see one million Hui in Kingdom communities by 2030.
"We want to help them in the journey to become a follower of Jesus," Mao said. "The challenge is to introduce Jesus as who he really is, the son of God, because Muslims reject the divinity of Jesus."
Phoenix added that the Chinese character for Hui ― one square inside another ― can mean "to return." Mao and Phoenix find inspiration in such a circumstantial fact.
"Our prayer is that the Hui may return," Phoenix said. "As we pray for the Hui, we want to pray that God would cause the Hui people to return."
Recently, Mao and Phoenix have seen some Hun Chinese join their pioneering gospel ministry. But they are still praying for more. Prayer for the ministry is their greatest needed. But servants, short or long-term, are both a significant need.
Related: What missionaries desire most
Despite language and cultural barriers, especially a ministry that relies on indigenous Chinese believers, there are still ways to support Mao and Phoenix.
Mao and Phoenix have given financial aid for education to Hui girls or those from poorer families. As in other Muslim countries, education is prioritized for boys.
"We had two of the girls who received scholarships become followers of Jesus," Phoenix said.
They also shared how valuable healing of physical illnesses can be for showing people that Christ is greater than the prophets of the Quran and Torah. Muslims among the Hui are taught that, to be a complete Muslim, they must read not just the Quran but the Torah as well.
That's why Mao and Phoenix are focused on prayer and building friendships.
"We want to be very intentional in spiritual conversations that we can have with all the Hui that the Lord brings across our path," she said. "We want to build relationships that can take years and years."
At the same time, God has opened doors for them to serve the Hui people with English lessons. Converge recently invited God's people to teach English in universities in China. There are also opportunities among the Hui for summer camps and medical teams.
"How can the people call on the one they have not heard?" Phoenix asked, quoting Romans 10. "We are needing and asking for more workers."
Somewhere in China, there's a basement full of eager Christ-followers. They know about the security cameras, the phone tracking apps and the laws against obedience to Christ's great commission.
But they are training. They are motivated to share what God has done in their life. They're prayerfully preparing and hoping to see a million Hui caught up in a gospel movement.
These true brothers, squeezed in a basement for 15 hours a day, know where the exits are. When they exit the basement, whether free or forced, they will go forth as faithful men, able to teach others.
"We thank God that some, as a result of the training, say 'God is calling me to the Hui people'," Mao said. "We're seeing some couples, those people we train, go to the Hui people in different locations in China."
Converge is asking God for a gospel movement among every least-reached people group ― in our generation. Learn more about Converge International Ministries and the many ways you and your church can make a global gospel impact.
---
Ben Greene, Pastor & writer
Ben Greene is a freelance writer and pastor currently living in Massachusetts. Along with his ministry experience, he has served as a full-time writer for the Associated Press and in the newspaper industry.
Additional articles by Ben Greene

---