Escaping the wheel of suffering
Ben Greene
Pastor & writer
---
What can cook Thai food and assist women leaving the sex trade industry?
An oven.
But getting an oven to the women takes more than online comparisons, reading reviews and a trip to an appliance store. Instead, it took a Connecticut church, a Converge global worker and a Thai pastor in Chiang Rai.
The global show of unity and love began when three Thai women stopped working in the sex trade industry. They moved in with Pastor Paisan Pratumrut's family.
For Thai people, being Buddhist is being Thai. But Pratumrut finds his identity in Christ and wants others to do the same.
So, Pratumrut shared his Chiang Rai home with the three women. However, having three new people in the house was creating some strain.
Around the same time, Pratumrut's church received a bakery from a wealthy church member.
When Pratumrut shared this story with Rick Berry, who leads Converge's Thailand Initiative, God began to orchestrate something incredible for those women.
Next, a Connecticut church heard about the needs of the women and the bakery's potential. Ultimately, Calvary Chapel Naugatuck, Connecticut, raised $4,000 to buy an oven the bakery needed. That generosity not only paid for the oven but built the women a small house.
"I'm really finding the American church to be generous as they hear about needs in Thailand," Berry said.
The Thailand Initiative is a new Converge endeavor to strengthen the movement's ministry in one of the world's least-reached cultures. The goal is to engage Thai people with the gospel and equip leaders to expand the kingdom.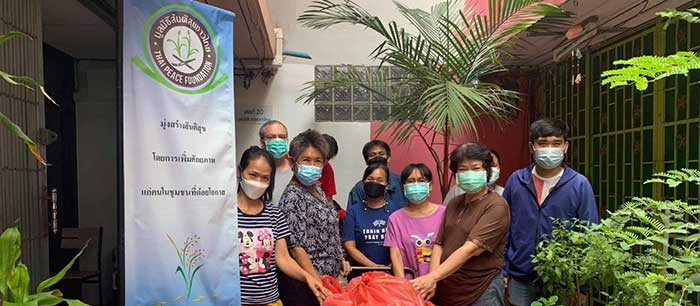 What is the spiritual dynamic now in Thailand?
"It's very hard to be a Christian [in Thailand]," Berry said. "You are proud to be Thai. And if Buddhist is Thai and Thai is Buddhist, then if you become a Christian, are you no longer Thai?"
Such confusion creates a spiritually discouraging reality for many Thai, even though some say the country is The Land of a Thousand Smiles.
So many visitors go to Thailand for selfish, dehumanizing and oppressive reasons. There is a rampant sex trade that fuels the country's economy for women while enslaving them at the same time.
"You can almost feel the heaviness," Berry said. "You can feel the sorrow in the air."
Related: I knew I was a failure
Moreover, the Buddhist faith teaches Thais to escape the wheel of suffering that is their life. Buddhism is about religious activity to reach nirvana rather than practices to encounter God.
"They're just trying to empty their mind and achieve nirvana and get off the wheel of suffering," he explained.
Eternal life through Jesus Christ sounds to Thai ears like the wheel of suffering for eternity. That's not an invitation the Thai people smile about.
For this reason, Thai Christians who help with ministry leadership among their community are so vital. These believers have two major strengths, Berry said.
First, he said they are beautiful, caring people who are very industrious and hard-working. Secondly, the Thai people can share the gospel with their neighbors in a more effective way.
"Foreigners have to contextualize the gospel. Thais do not," Berry explained. "A Thai pastor isn't worried about contextualizing his message. He doesn't have cultural barriers."
For example, sharing John 3:16 would seem like a simple way to begin talking about Jesus. However, Berry said communication of the gospel grows difficult when Thai people find out that Jesus died.
"Jesus was killed, so [Thais believe] he must have been a bad person," Berry noted. "John 3:16 is heard very differently in the Thai mindset. That's why we're connecting the story of Jesus to the story of the Thai people."
The western presentation of receiving eternal life isn't useful or appealing because Thais believe in reincarnation. In fact, Thais already believe they have eternal life, and they don't want it. Instead, they want to achieve nirvana and escape the wheel of suffering.
When Thais hear about Jesus, they don't understand how a persecuted, rejected dead man can get them off the wheel of suffering. Berry said many people outside Thailand talk about when Christ is returning. But most Thais don't even know Christ came the first time.
"It's telling the story of Jesus they've never heard," he said. "What an amazing opportunity for U.S. churches to get involved in something significant."
What has ministry to the Thai people looked like so far?
Missionaries first served in Thailand 400 years ago. But the nation of 70 million ― that's every person in California and Texas ― has maybe 300,000 Christians. That's about .5 percent of the population.
"We need to change our strategy because it isn't working," Berry said. "We still need to go, but we need to go differently."
A vital tool for reaching Thais with the gospel that began several years ago will continue. The Santisuk English school uses English lessons to introduce people to Christ.
"English has been a great entry point," he said. "Teaching English is an effective way to connect to the Thai people."
Related: You never know your impact
Teaching English in Thailand, like many other countries, means using Bible stories as literature. Both short-term and legacy missionaries affiliated with Converge have been teaching English for 20 years in Thailand.
Students in the English classes near Bangkok experience what could be called a discipleship pathway. First, the students are introduced to Jesus and learn more about him. After that, they are invited to join a small group. Later comes an opportunity to join a church.
"We introduce Jesus and disciple new believers," Berry said. "With Thai partners, we start and strengthen churches."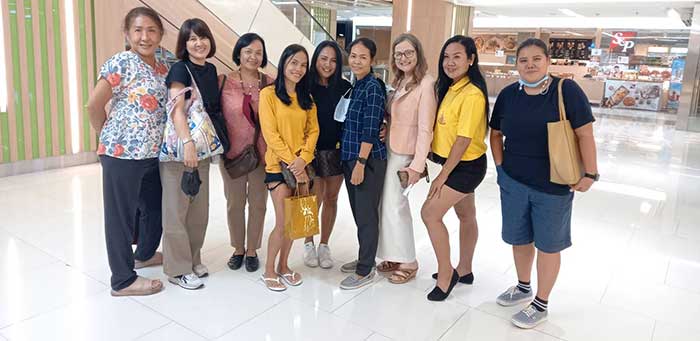 How will the initiative build upon past service?
The most significant change God is leading means new leaders within the initiative and changing roles and expectations for global workers.
"We're going from missionary-led ministry to Thai-led ministry," Berry said. "We've had fantastic missionaries, and now the future is Thai-led."
Berry himself served in a ministry in the Philippines that he gradually entrusted to indigenous leaders. So, he's acting on what he's seen God do elsewhere in Southeast Asia.
He got involved in global work about 20 years ago while attending a small church in Milford, Massachusetts. He learned of an opportunity to coach basketball in the Philippines, which became his path into missions.
He and his family moved to Tayabas City in 2004. He trained Filipino pastors to use sports ministry more effectively as an outreach tool. Then, three years ago, he turned that ministry over to Filipino leaders.
"I am proud of the people that have come behind me and who I've been able to pour my life into," he said. "I rejoice and am so excited about their accomplishments, much more than the things I have done."
How is the Thailand Initiative organized?
As that transition settled, Berry agreed to lead Converge's new Thailand Initiative. One primary goal is to see Thai people lead ministries while Converge staff serve as supporters of indigenous believers.
"The Thailand Initiative is about that really ― training, inspiring and developing the next generation of Thai leaders," he explained.
Three additional ministry locations were added as the initiative makes strategic changes in how Converge global workers serve differently.
First, Ohm Rungkittikhun will serve in Udon Thani. There, he will join Converge global workers Dustin and Melissa Leland and Cory and Brooke Jackson.
Over in Uttaradit, Withaya Boondeekun leads a group of 30 pastors to grow in ministry skills and personal character.
Lastly, Pratumrut is a leader of a movement to start churches. He started Blessing Stream Church in Chiang Rai where the bakery opened.
Why we're better together
As a sign of Converge's global partnerships, Berry sent out an email explaining how hunger was a growing problem among the normally stable, vibrant country. COVID-19 devastated the Thai economy, damaging more than 50 percent of the businesses.
People at Santa Barbara Community Church in California read Berry's email and started praying and acting. The California church responded by raising $4,000 to feed hungry people.
"That is an encouragement to me," Berry said, "because it's churches working together."
Bethlehem Star of Peace was created in the Philippines. Americans Dennis and Melody Nordine partnered with Filipinos to start the church. Bethlehem Star of Peace then started more churches, reaching out all over Asia.
Related: Church missions resources (effective strategies, coaching and opportunities)
"We're now seeing the fruit," Berry said as Filipinos become missionaries to their neighbors in Thailand. "They've gone from being served to leading their own churches and ministries and sending their own global workers to other countries."
To contribute to the Thailand Initiative, churches or individuals can support a Thai worker, a Converge worker or a project. Praying with the global workers is a critical partnership.
"We have a monthly prayer meeting on Zoom. It's a beautiful example of God's church," Berry said. "Thais, missionaries, people from churches in the U.S. [are] sharing their hearts and praying together."
There is a thorough briefing every quarter so churches and individuals can understand what all the missionaries have seen. This briefing incorporates individual missionary reports while also revealing larger works of God.
"It's nice for smaller churches to feel a part of something larger," he said. "Joining that call helps them realize they are part of something bigger."
What else is God cooking up?
Like an oven and a donated bakery, simple solutions sometimes engage complex problems. A key to seeing more Thais come to Christ is more people sharing their life and ministry.
Converge global worker Karen Indehar uses baking to minister to Thai women. Her gatherings, known as the Brownie Baker Girls, give Thai women baking training and offer them Christian community.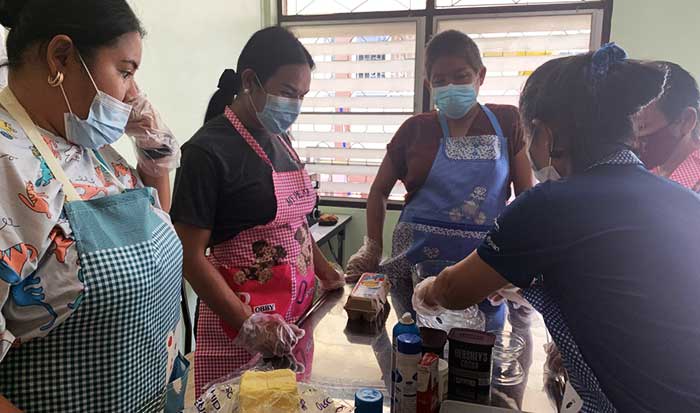 Indehar had a dream one night; she was baking with Thai women and selling the treats in different markets. Indehar's coworker heard about the dream and thought it was a great idea.
"With the COVID-19 shutdown, Thai ladies are craving new ideas for things to create at home," she said. "Plus, we always share a meal together. It takes time to open up, but it's happening, little by little."
The growing relationships are essential for these women, who previously worked in the sex trade. They are often widows or orphans with heart-breaking stories.
That reality, even when she has a relationship with the women, leads Indehar to ask for prayer.
"It still takes years of peeling the layers, as an onion, to get to the heart and see people truly turn from their idols and traditions and be saved," she said. "Only God can change people's hearts, and we need so much prayer to stay the course."
Related: English teachers making a gospel impact in East Asia
The women laugh and labor together around the bakery. As a result, they earn income selling treats at public markets.
First, they made brownies, tweaked the recipe and baked pan after pan until they had it right. Now, "The Original Recipe" wows Thai shoppers with two colors of chocolate and a crunchy top.
Next, Indehar and her friends started Keto recipes, which are their best sellers. Many Thais are diabetic, so Keto diets are very popular.
The baking times always include prayer, Bible study and a meal. They have studied 1 and 2 Thessalonians and Philippians. Indehar studies at a Bible college. So, she shares with the women bakers what she's learning at school.
"Thai people are love-starved and respond well to pouring out love," she said. "But we need more laborers to come, die to self and learn Thai language and culture."
That's how she taught others to bake. Truly, though, that's how God engaged a least-reached group of people he loves so much.
Learn more about how you can support the Converge Thailand Initiative.
---
Ben Greene, Pastor & writer
Ben Greene is a freelance writer and pastor currently living in Massachusetts. Along with his ministry experience, he has served as a full-time writer for the Associated Press and in the newspaper industry.
Additional articles by Ben Greene

---