"A chance for God to grab their heart"
Ben Greene
Pastor & writer
---
The retired building inspector had never heard anything like this.
He'd heard about shoddily built walls and wiring that wasn't safe. And, of course, people shared their frustrations and disagreements with the conclusions of his building inspections.
But no one had ever shared anything like this. And he'd spent his entire working life in Senegal.
That's why Brad* wasn't sure what the man in his 60s would say. The Converge global worker in Senegal never knows how the least-reached people around him will respond.
The man listened to several stories from the book of Genesis. Brad was reading them to him. Then, with reverence in his voice, the man spoke.
"It's like you are there, watching it happen," the Muslim man said about Genesis.
What are Converge workers encountering in Senegal?
The man, like most Muslims in Senegal and West Africa, hears the Qur'an sometimes. But the Qur'an, Brad explained, is challenging to read.
Like the Christian Scriptures, the Qur'an is divided into chapters. However, the Qur'an arranges those chapters from longest chapter to shortest chapter. So, the text is hard to read because the Qur'an's structure interrupts individual stories.
Very few Muslims, Brad explained, can read the Qur'an because it is written in Arabic or French. Other than baguette shops at many of the intersections in Senegalese cities, the French influence as a colonial power has created a lot of resentment. There are a few Roman Catholics in the country, but Senegal is 95 percent Muslim and 100 percent animist, as one Senegalese said. An animist believes that there are innumerable spiritual beings concerned with human affairs and capable of helping or harming human interests.
Even so, a desire for Senegalese people to know Christ as Lord inspires the team on Converge's Metro SenWest Initiative. The initiative, led by Bill and Kathy*, is focused on an urban triangle of cities. Dakar, Thies and Mbour create that triangle.
"The area in the middle of that triangle is growing like crazy," Bill said. "Lots and lots of people from all over the country and other countries are moving into this urban triangle."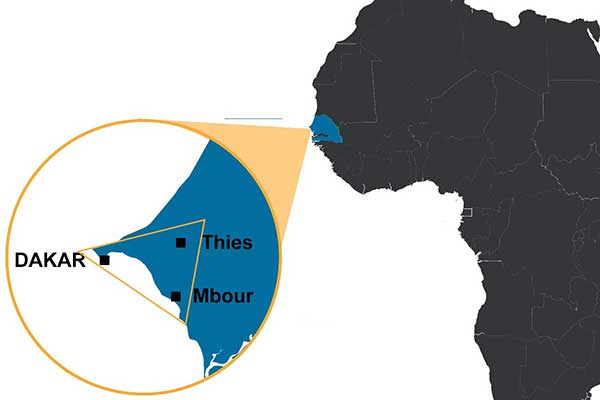 Related: Utah church planters tell Jesus' story: the beauty of grace in life's rugged mountains
That geographic and cultural shift includes the possibility for spiritual fruit among the traffic and low-rise buildings. Throughout the triangle, cars, scooters, motorcycles and horse-drawn carts create a noisy, smelly hustle on dirt and paved roads.
"We think they'll be more open to considering the claims of Christ here than in the village," he said.
That's because villages, like some small towns in America, can be hard to maintain privacy in, especially if someone follows Christ instead of Mohammad.
How did the Metro Dakar initiative come to be?
Brad and Deb* also focus on the triangle. They merged their ministry with the Metro SenWest Initiative to reach more people.
Brad explained that starting an initiative and developing a consortium of churches would take a lot of time. Pursuing that goal plus serving in Senegal wasn't feasible. After all the years they'd invested in preparing and ministering, they wanted to focus on what was happening in Senegal.
Converge has been committed to missions around the world for more than a century. The Swedish Baptists who started the churches that became the Converge movement generated the structures and passion for global work in Christ's name.
Now, Converge's U.S. Engagement Team deepens contacts with churches to strengthen the partnership. So, the global workers stay focused on people in Senegal and continuing their ministry.
"A number of churches are much more engaged with us now," said Bill. He said there are active prayer teams and short-term teams coming to serve with support from the U.S. Engagement Team.
Applications are also being accepted for interns to serve six weeks next summer among the Wolof and Peul peoples in the triangle.
"We're looking to grow our team," Bill said. "We need more workers, so that's something people can pray for."
Related: [IM]PACT Internship leads to new life plans, new lives in Christ
The Metro SenWest initiative utilizes seven ministry projects but has one goal: make disciples who make disciples. That goal will hopefully lead to five percent of the Senegalese in the urban triangle learning to be disciples who fruitfully share the faith.
"There's a specific goal we're pulling toward," Bill said. "That's something we didn't have before. That vision from Converge provides a good goal for us to be aiming toward."
Related: Advancing the vision
How does God lead and integrate new missionaries?
Bill worked as an engineer in Massachusetts when he and his wife, Kathy, began to consider serving in missions seriously. They were considering Senegal but wanted to hear from someone in the country. So he wrote an e-mail to Bruce*, who was assigned to Ivory Coast but was in Senegal at the time.
Several days later, he got a message from Bruce. He printed the e-mail and took it to a Burger King in Framingham, Mass.
"I was very anxious as to what [Bruce] had to say and wanted to be in a place where I had no distractions," he said. "I just remember the hair on the back of my neck standing up as I read his reply."
Bruce told Bill and Kathy how he and his wife, Julie*, were thinking about staying in Senegal. Bruce and Julie didn't have to; in fact, they planned to return to Ivory Coast when it was safe. But they saw the potential during their time in Senegal for ministry to university students and ways to plant churches.
Related: Knowing God's heart for the world
Bill and Kathy didn't realize that God was not just changing their careers and calling them to move. At the same time, God was reassigning Bruce and Julie, as well.
So, Bill and Kathy went through Converge's Missionary Assessment Center. They were approved and started partnering with fundraisers and prayer teams. Then they went to Quebec to learn French. After that, they were on the ground in Senegal, sharing the gospel in French.
"It was very easy to start spiritual conversations when we were first here," he said. "Talking about God, talking about Jesus' teachings, that was relatively easy to get into."
How are people connecting with Christ?
As it happened with the building inspector, Brad and Deb often find people interested in hearing Scripture. Especially if it concerns Moses, Abraham and Ishmael. These three men are points of connection. But what the Bible and the Qur'an say and how they say it are very different.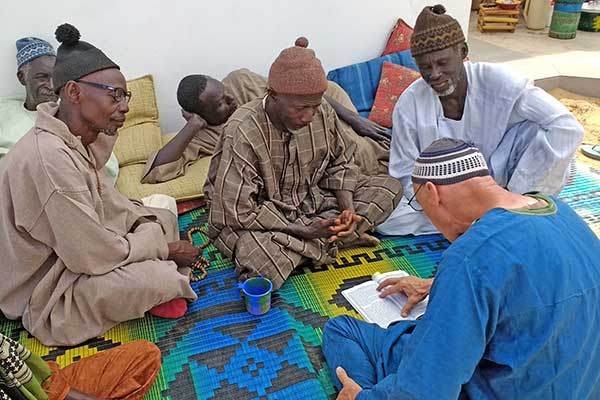 "Have you read what Moses said about Abraham in the Torah?" he often asks Senegalese people. "I find people who are very interested, and they can't read themselves."
Brad often comes to the end of a narrative section only to find his companion wants more. "I'm not tired, I'm not done," they say to him. "Keep reading."
Related: "It's like you are there with them"
Brad and Deb's method and approach are straightforward. They've been in Senegal for nearly 20 years, first serving among farmers. But they relocated to the urban triangle to be part of Converge's work.
"I just walk the streets and visit with people and see who God might give me an opportunity to have conversations with," he explained. "It's an opportunity as I prayerfully read the Scripture. It's a chance for God to grab their heart. They might realize there's really good stuff in here [they] need to know."
What happens to new believers in Muslim countries?
Even with the ease of discussing Jesus, Brad and Deb explained Muslims need a lot of reading, even for the penetrating word of God to lead them to salvation.
"For somebody to come to faith, it's usually a five-to-10-year process. Muslims have onion layers of misunderstanding and mistaken ideas about the Bible and who Jesus is," he said. "So, you have to unwrap those and pull those layers off one at a time. That's a long process."
When people realize Jesus is the Messiah, whether through the Scriptures or conversations with Converge global workers, they face a cultural and communal challenge.
Related: A bold request, a bold answer
Brad explained, "Then they begin to say, 'Everybody in my family is a Muslim, and all of my friends are Muslim. So how am I going to tell them?'"
Bill said God had shown the team it's best to let people choose how and when they communicate their faith to family and friends.
Shunning can easily happen after someone chooses Christ as Lord. Family, friends and business partners will shun the new Christ follower. The goal of the family turmoil and the professional abandonment is to force the person back to Islam. The other choice is being a secret believer.
Jesus' love and power among Muslims can overcome the opposition
In Senegal, there are about 30 tribes or ethnic groups and 16 million people. Ninety-five percent of the country identifies as Muslim. Five percent are Roman Catholics.
Whether Islam or Christian, the Senegalese are animists first. They mix their traditional African spiritual views into a form of folk Islam or folk Catholicism. Charms and magic words are common, Brad and Deb explained.
Bill added that people turn to black magic when trying to curse someone, have a baby, or do well on an exam.
"Underneath a Muslim veneer, there is a fear of evil spirits," Bill said. "If they need help for something, they might go to somebody here who is called a marabout. He has some of the trappings of Islam, but he does a lot of black magic stuff."
Bill said serving Jesus' purposes in such a situation begins with praying in Jesus' name, if those people will accept such prayer. People will talk about their needs and are happy to be prayed for.
Related: Setting the table for friendship evangelism
"A lot of people here are struggling to survive," he said. "Anywhere they can get help, they're happy to get it.
What happens when Jesus answers their prayers?
"That speaks volumes to people," Bill said. "It doesn't necessarily mean they're going to follow Jesus as Lord and savior. But it speaks volumes to people."
*Last names have been intentionally omitted for security reasons.
---
Ben Greene, Pastor & writer
Ben Greene is a freelance writer and pastor currently living in Massachusetts. Along with his ministry experience, he has served as a full-time writer for the Associated Press and in the newspaper industry.
Additional articles by Ben Greene

---