Disciple-making where the past and future collide
Ben Greene
Pastor & writer
---
Many eastern Nigerians have, well, "historic-style" bathrooms, yet they have three cell phones.
"We use outhouses, and we have cellphones. It's very diverse technology," Dan Gibbs quipped. "[Nigerians] went from having no phones to cell phones."
There is no running water in the Gibbs' remote area in eastern Nigeria. There is also no electricity on the large plateau where they live. They're there because Dan and his wife, Tina, love one of the world's least-reached and fastest-growing countries.
All the homes have a pit toilet or outhouse. But families all have one or two or even three cell phones. That's because one cell network might go down. When it does, people switch out SIM cards and try another network.
Airtel, a telecommunications service company, has pretty good 4G coverage, Gibbs said. But, in the next two or three years, the company with the best service might change entirely.
"We just never know who's going to have the best equipment and the best network possible," he said. "Our internet comes from satellite."
Toyota is the most popular brand of car and truck in Nigeria. Most people drive a Helux (a smaller pickup) or the Prado (a full-size SUV).
"There's always the ability to get parts for Toyota vehicles," he said.
What eastern Nigerians can't get is a movement of disciples who help others meet, know and follow Jesus.
Jesus is key to the present and future of Nigeria
"The future in Nigeria is not going to be in starting churches yet, but in making disciples who learn how to disciple others," Tina said. "Our goal is to bring Jesus to them so they can find him themselves and take away the fear that is constant in their culture."
For several years, Converge has had a presence in the Gembu region of eastern Nigeria. Global workers served children, women, those who needed medical care and people in poverty who wanted business skills.
Around 2010, the Gibbs felt God was calling them to something different. Their children were grown, and both Dan and Tina were well established in their careers. They worked decades in careers that convinced them they were not missionaries ("global workers," as Converge calls them).
"We're not missionaries. Missionaries go to school, they have a people group that they're attracted to," Dan said. "They do missionary stuff."
To which Tina adds, "Dan does business stuff, and I do preschool stuff." She once owned a daycare, taught preschool and led her church's children's ministry.
Eventually, they surrendered to either stay in the states or serve internationally. God sent the Gibbs to Nigeria seven years ago.
Related: Missionaries making an impact
They followed long-time global workers for Converge. Because their ministry is so different from the USAID-funded program Nigerians were accustomed to, the Gibbs invested plenty of time building relationships and partnerships.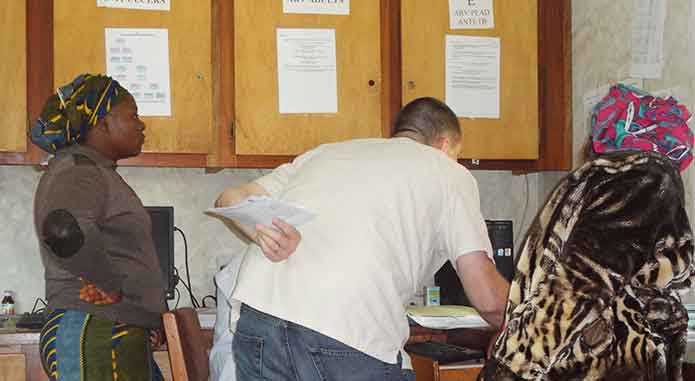 The large campus where the Gibbs serve includes a hospital, blood bank, bakery, guest house and restaurant.
"That teaches those people to be self-sustaining and helps the whole complex be self-sustaining," Gibbs said.
What does Nigeria need next?
Now, the Gotel Initiative added disciple-making and discipleship to the existing mercy ministries. Having the discipleship added to the service offerings means the Gibbs need help. But they're not sure if God will lead an ex-pat or a national to come.
They just know discipleship is incredibly necessary.
"Jesus has been added onto their tribal religions. Everyone, even pastors, goes to witch doctors before they go to the hospital. They put curses on each other. They get charms to protect themselves from curses," Gibbs said. "There's not a true understanding of the power of Jesus."
Related: Knowing God's heart
The population in Nigeria is increasing dramatically. About 200 million people make Nigeria the seventh-largest country in the world now. In 30 years, the country could be the third-largest nation, passing the United States. In 70 or 80 years, Nigeria could be number two since China's population growth rate is declining.
In spiritual confusion, what is the way forward?
Half of the country considers themselves Muslim, and the other half considers themselves Christians. But in both cases, Islam or Christianity mix with tribal practices and religions. Overall, the Gibbs say a very mild devotion defines the spiritual landscape of Nigeria.
They said Christians and Muslims stand together if they are from the same tribe or opposed to another tribe. Plus, Nigerians who identify as Christian or Muslim often participate in a witch doctor's curses against some else.
"They don't realize that's actually promoting witchcraft and demonology," Gibbs said. "[Satan's] really got a stronghold there."
So, the Gibbs are prayerfully, compassionately responding to teach the people to encounter God through the Scriptures. Encouraging such personal responsibility runs counter to Nigerian worldviews.
Related: "It's like you are there with them"
"They go to a doctor and do what he says without even knowing what's going on," Tina said. This is a sort of 'big man syndrome,' where many Nigerians don't question what educated, powerful or rich people say.
However, the couple believes Ephesians 2:10. God can convince the Nigerians they are able to do good works. And they try to teach Nigerians to apply Galatians 6, which teaches people they reap what they sow.
"There are very few people who have a relationship with God and are living a life pleasing to God and very few militant Muslims," he said.
Why did God call the Gibbs?
Tina's passion is teaching. She worked with children for years. As Jesus prayed in John 17, people can be sanctified by God's truth.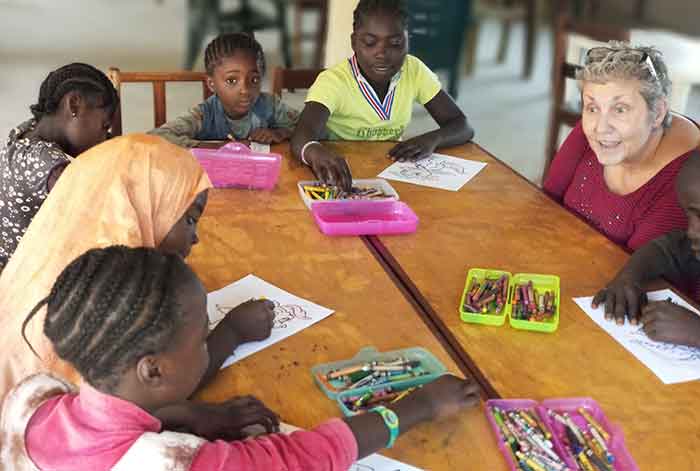 "I love being able to affect people's lives, especially young people and mothers," she said.
Meanwhile, Dan has a passion for finding and training leaders. Before going to Nigeria in 2014, he worked in consulting and leadership development.
"My passion is leader development in Nigeria, building sustainability in all we do," he said. "We want to leave an organization that can function without us being there at all."
They are both using their gifts now in Nigeria. But seeing the Gotel Initiative gain momentum and make an eternal impact means they're trusting God for more servants from God.
Let's do this together
Gotel refers to a mountain range in eastern Nigeria. In the Fulani language, gotel means 'coming together,' which reinforces the ethos and mission of Converge to start and strengthen churches together.
Moreover, many know the song Go, tell it on the mountain with its reference to sharing "over the hills and everywhere" that Jesus Christ is born. The Gibbs fused each of these cultural narratives with reflections of God's character to name the initiative.
"We have to have other people join us," Tina added if the Gotel Initiative is going to succeed.
Related: Learn how to start your journey as a missionary
So, the person who joins the Gotel Initiative has the privilege of leading several years to see disciple-making gain sustainable momentum and share the leadership with local Nigerians.
Dan explained that Nigeria might have more vibrancy and technology and world prominence as the population increases. Someday people may even have running water or electricity (the nearest national electricity grid is six hours away).
Right now, God wants to reach today's Nigeria. The Gibbs know his work now can create an enduring church, no matter how common Toyotas and SIM cards remain.
"We want to bring up Nigerian nationals in the way we do things so they can continue on, and we can depend on local nationals going forward with the ministry," he said.
Converge International Ministries is praying for a gospel movement among every least-reached people group – in our generation. The Gotel Initiative is among a growing number of regional initiatives to help support this vision. Learn more about how you and your church can partner with Converge to help more people around the world meet, know and follow Jesus.
---
Ben Greene, Pastor & writer
Ben Greene is a freelance writer and pastor currently living in Massachusetts. Along with his ministry experience, he has served as a full-time writer for the Associated Press and in the newspaper industry.
Additional articles by Ben Greene

---