Story
Thank you so much for all of you who have supported me over the past two years as an AT3 Apprentice! Your prayers and financial support have allowed God to mold and use me in ways that I could have never imagined; because of you, I was able to be a part of the gospel movement on the ground - seeing both the great need that still exists in Britain, while seeing the amazing power of God to save the lost through the faithful witness of the church.
Though, I was only originally planning on being a two-year apprentice, God has a different plan, which brings me to some exciting news! The AT3 Director has asked me to join the AT3 staff team as the Communications Coordinator in which I will be designing all graphics, maintaining social media accounts, assisting other staff members, and fostering relationships with potential AT3 apprentices and interns. It is amazing how God provides the right people with the right spiritual gifts in His perfect timing!
Just to remind you, AT3 (Alliance of Transatlantic Theological Training) - a program partnered with Converge - is based in the UK. AT3's goal is to raise up leaders in the Church. Although the UK was once a vibrant country where missionaries were sent out to the world, today it has dwindled to 3% evangelical Christians. While I was on the ground in London, I met individuals that had never even heard of Jesus Christ or merely thought Christianity was an outdated, ancient religion. The post Christian UK has an enormous need for laborers. I was blessed to have the opportunity to work alongside and build relationships with British individuals - helping them grow in their faith and trusting that the Holy Spirit will continue to guide them just as He continues to guide me in the transition of my new role into ministry.
So where do I fit in to all of this!? Great question, my role will be to help raise up missionaries state side in order to fill the leadership gap in the UK church, prepare them for the field, and help them while they are overseas serving the Lord.
My goal is to make the transition from AT3 apprentice to AT3 staff by January 2022, and I am so eager walk through this door that God has provided me. As I am preparing for my next step in God's plan for my life, I am humbly asking you to partner with me in this journey. This partnership consists of both your prayerful and financial support. If you would like to be my prayer partner, please email me:) If you are interested in partnering with me financially, I'd love to talk with you personally. I will be raising funds for a 1 year commitment. I plan to get in touch with you soon. I can't wait to catch up with you and share this mission the Lord has placed on my heart.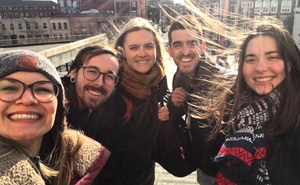 United Kingdom //
Apprentice gathering in Liverpool, UK, at the beginning of 2020. Grateful to have had this opportunity!
Personal ministry funds
Donate to a missionary to help provide specific tools and equipment needed to advance local ministry.
Live out your faith today. Help take the gospel to the ends of the earth.