Story
Dan grew up in the Philippines and attended Faith Academy for two years. After university, he went to two years of trade school and received a degree as an automotive service technician. He also managed five apartment buildings, assuming all repair, maintenance and accounting tasks. He can clearly see how his background in Filipino culture and his knowledge of vehicle and building maintenance have equipped him for the job of supervising the grounds and transportation departments at Faith. In this role, he supervises Filipino employees and oversees the maintenance of the 22-acre campus. Sandy worked for 10 years as an emergency room nurse in a busy county hospital, preparing her to respond professionally, quickly and calmly to all types of medical emergencies. Her responsibilities there also included training non-medical professionals in first-response situations. She also spent two years in the Health Services department at Bethel University, gaining valuable skills as a school nurse. Like Dan, she can see how her nursing career, as well as her experience growing up in Ecuador as a missionary kid, uniquely prepared her for the job of school nurse at Faith Academy. Their purpose in working at Faith Academy is to care for the health and safety of the children attending Faith, as well as making sure they are safely transported to and from home, school events and field trips. While doing this, they feel they are allowing the missionary parents to do what they do best — spreading the gospel and strengthening the church in Southeast Asia. When the parents are assured that their children are receiving a quality education, they can fulfill God's call upon their lives and focus on Kingdom work.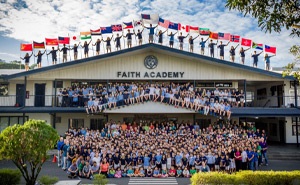 Manila, Philippines //
Our greatest privilege is joining Jesus in what he is building: his church. When we reach across the street and around the world with the gospel—locally and globally—we impact lives for eternity.
Personal ministry funds
Donate to a missionary to help provide specific tools and equipment needed to advance local ministry.
Live out your faith today. Help take the gospel to the ends of the earth.