Story
It began on September 15, 2018. That was the night my life was forever changed. I had finally hit my rock bottom and decided to surrender my life to Jesus Christ. The transformation that came from the choice to surrender and accept the love and forgiveness of God is my prayer for the people of the Navajo Nation, my people. I wasn't always on fire for God, I wasn't always excited and willing to do for others, I didn't always have the peace and joy I treasure now. But God! God has placed a specific calling on my life to reintroduce Jesus to the Diné people. 97% of Navajo people die without knowing Jesus Christ and God has called on us to change that. As a first generation born again Christian I know the struggles of living a life without Jesus all too well. My goal is to share with my people of the Navajo Nation the same love and grace that Jesus showed me. Jesus said in John 14:6 that He is THE WAY to eternal life. He said in John 10:10 that He also came to give us an abundant life while we're here on earth. My mission is to allow God to do what only He can do and offer my life as a living sacrifice, a willing vessel to live out the calling on my life.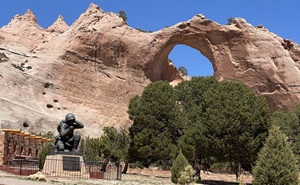 Navajo Nation, USA //
Window Rock, AZ USA
Personal ministry funds
Donate to a missionary to help provide specific tools and equipment needed to advance local ministry.
Live out your faith today. Help take the gospel to the ends of the earth.