First, God said, 'No.' Then he said, 'Go.'
Ben Greene
Pastor & writer
---
Melissa Leland, a Converge global worker in Thailand, wants to grasp how rice grows.
Many people, it's safe to say, are comfortable knowing rice grows in southeast Asian paddies. Plant the seeds at a certain time, add some water, let the sun do its thing, harvest it and so on.
But Melissa, living in Thailand with her husband, Dustin, and their children, has a curiosity that goes deeper.
"I want to understand how things are grown," the Lynden, Washington native said. "What is the process? What happens with the plant?"
But along with learning how to grow plants, the couple is focused on growing a disciple-making movement among the least-reached people of the Buddhist nation. Sixty-nine million people live there but less than one percent know Christ as Lord.
What is the purpose of missions?
At the beginning of Dustin's journey, he thought missions meant serving humanitarian purposes somewhere. However, such an approach didn't completely satisfy his desire to serve overseas.
During the Perspectives on the World Christian Movement course, which directly discusses least-reached people groups, the Lelands' hearts found focus.
"Besides opening my heart to the missional heart of God, Perspectives also opened my eyes to unreached people groups," Dustin said. "Forty percent of the world does not have access to the gospel. The injustice of that weighed heavily on me."
When Melissa took the course, she was also deeply motivated.
"I didn't know what to do about it, but it shifted from somebody should do something about it to maybe I should do something about it," she said.
There's wondering and willingness
Dustin's parents started a ministry in Haiti several years ago. Both Dustin and Melissa helped in a variety of ways. So, one option the Lelands' naturally considered was to serve in Haiti.
Melissa made a short-term trip with her in-laws' organization and helped their ministry arrange volunteer trips. The couple also helped to ship containers to Haiti and planned fundraisers.
In 2013, as the couple considered where to go as global workers, Dustin's parents moved to Haiti. So, they went down to Haiti together to set up his parents' new home and ministry location.
After a few weeks, Dustin and Melissa got up on the home's roof to cool off and consider their experience to that point.
Dustin shared with Melissa he felt God was saying 'no' to placing them in Haiti.
"That was really surprising because we felt called to missions," he said.
After all, his parents moved to Haiti and wanted more help. Plus, Dustin and Melissa went through the Perspectives course. Now, they were willing to go abroad and serve.
"Why would you tell us no?" Dustin wondered about the Lord's direction. "This didn't make any sense. But it was very clear."
Doing what they can while they wait
After the visit to Haiti, the Lelands helped with his parents' ministry, but from the States. While they waited on more clarity from the Lord, they participated in missions activities at Sunrise Baptist Church in Custer, Washington.
"Dustin and Melissa have always been passionate about missions and being engaged in spreading the gospel to the unreached peoples of our globe," their pastor Phil Stevenson said. "I love their enthusiasm for the adventure of being obedient to the Lord no matter what it costs."
During this waiting phase, the Lelands served on the church's mission committee and Dustin facilitated several Perspectives courses for the church.
Then, in 2016, Ivan Veldhuizen was speaking at the Lelands' church. Veldhuizen, Converge's senior vice president of International Ministries, said it was time to focus on least-reached peoples.
The Lelands heard that Converge wants a gospel movement among the least-reached people groups in our generation. Least-reached people groups are cultures in which less than 4% of the population are believers.
Following Veldhuizen's sermon, Stevenson prayed. He sensed God's leading in that prayer: Someone needed to embrace ministry as their vocation. So, he told the congregation of God's prompting.
"I got really hot and started crying and I just knew I was going forward," Dustin said.
The pastor and Ivan prayed for Dustin; Melissa was serving in the church's nursery.
"We believe Dustin and Melissa are one part of answered prayers that our church has been praying for several years," Stevenson said. "We have been asking God to raise up individuals and families who will give themselves to full-time ministry for the Lord.
"Dustin and Melissa have responded to that call and as part of our family we believe in them to be an extension of our ministry to multiply disciples who know, love and obey the Lord Jesus Christ."
After the service, Melissa finished volunteering in the nursery and walked to meet Dustin. Seeing the pastor's arm around Dustin, Melissa recognized a special moment.
"He filled me in," she said of that day. "It was like 'OK, let's do this.'"
After that moment, they put in the time, energy and sacrifice for Dustin to complete a bachelor's degree and training to teach English as a second language. They also went through Converge's Missionary Discovery and Assessmentprocess, which clarified their calling and revealed their fitness for global work in Christ's name.
God said 'go' and 'no' ― so where will he send the Lelands?
Although the Lelands knew where not to go, the Lord still had not been clear about where to go. So, they connected with David Jahnke, Converge's international leader for Converge's Asia region and Rick Berry, the Thailand initiative leader, as part of their decision-making process.
Berry shared with the Lelands how Converge was open to new strategies in Thailand to help reach the Buddhists. Serving leaders was an option, specifically in Udon Thani.
The Lelands took a month-long vision trip to Thailand in the summer of 2017. That experience gave them confidence to join Converge's ministry in the country.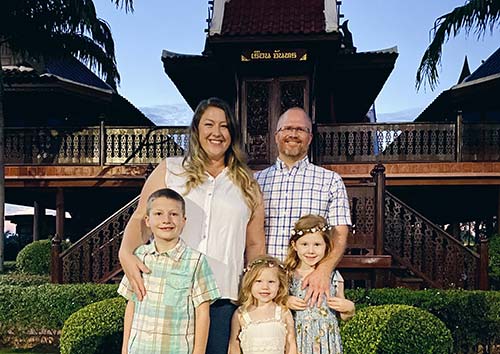 The Lelands moved to Thailand in March 2021 to be a part of the Thailand Initiative's focus on equipping indigenous Christian leaders to start and strengthen churches in Thailand and Laos.
"We want to lift up and empower Thai people," Dustin said. "We really want to find a Thai church or Thai Christians that we can partner with and grow in our faith with them and help them."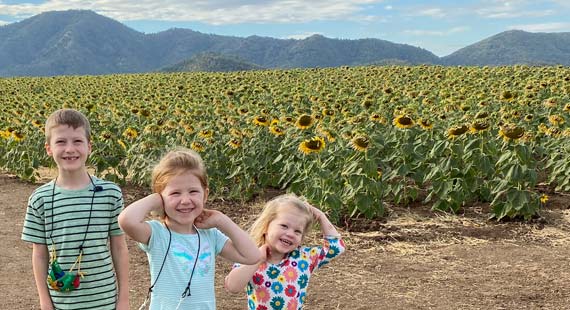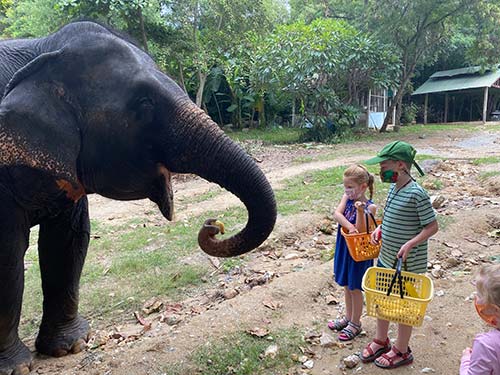 What is growing in Isan?
The Isan region where Udon Thani is located has a lot of agriculture. There's even an agricultural university there. The Lelands know someone who can connect them to the president of that university.
"I'm excited to see how God uses my gift of administration and my passion for agriculture," Melissa said. "We feel like we have all these possibilities at our fingertips, and we're excited to see how God uses them."
Dustin, reflecting on God's work through his family's ministry in Haiti, sees how God can do something powerful and significant. In that country, many Haitians have trusted Christ and been baptized.
Who's to say, he asks, that God couldn't answer the prayers and spiritual needs of the Thai people in the next generation?
"Maybe this is the time God has appointed for there to be a movement started and to see significant growth of the kingdom here in Thailand."
That hope motivates the Lelands as they study plants so the love of God in Christ can fill the hearts of the Thai people.
Converge is asking God for a gospel movement among every least-reached people group – in our generation. Learn how we are playing a role in accomplishing the Great Commission and how you can be involved.
---
Ben Greene, Pastor & writer
Ben Greene is a freelance writer and pastor currently living in Massachusetts. Along with his ministry experience, he has served as a full-time writer for the Associated Press and in the newspaper industry.
Additional articles by Ben Greene

---