"I had nowhere to go, so I went to church"
Ben Greene
Pastor & writer
Converge vision & mission
---
Four years ago, Bernard Emerson reversed his lifetime of loyalty.
"Now I support the Miami Dolphins," declared Converge PacWest's new regional president. His loyalty to the Raiders isn't what it was.
His reason is not Tua. His reason is not the aqua and coral colors; Emerson prefers blue and orange, the colors of his Harley-Davidson. His reason is not Dan Marino or a distant relative from Florida. Four years ago, 31 NFL owners voted to move the Raiders from Oakland — where Emerson grew up — to Las Vegas. Only one man opposed the move: the Dolphins' owner. That commitment was all Emerson needed.
Will you listen to the pastor or the pimp?
When he was 10, he moved to Oakland from Southern California. Not long after the move, Emerson's mother started attending Zion Tabernacle Missionary Baptist Church in Oakland.
Related: Sometimes answering God's call means leaving what you love
Meanwhile, Emerson respected pimps, gang members and drug dealers. His father didn't come with the family, leaving Emerson without a strong, manly presence. When he was 16, his mother decided Emerson would go to church or get out of her house.
"I had nowhere to go, so I went to church," Emerson said.
At that moment, one other man impacted Emerson to reverse another lifelong loyalty.
Alonzo Emerson, Zion Tabernacle's pastor, discipled the young man, giving him an opportunity to be another kind of man.
"[Pastor Emerson] took care of his church. He took care of his family. He took care of his community. I wanted to embody everything that he was," he said.
That conviction was all Bernard Emerson needed. "Ever since then, I knew I wanted to be a pastor."
Finding a new name to match his manhood
Shortly before leaving for the Army in 1988, Emerson said to his mother, 'Would you mind if I changed my last name?' She asked what name he was going to change it to. He said "Emerson," the name of the pastor at Zion who'd embraced the teenager infatuated with pimps and gang members. His mother answered, "That's your father. He played that role of dad for you."
Emerson went away to the Army. Four years later, he came back to Oakland, went to the courthouse and changed his name. Driving straight over to Pastor Emerson's house, he said, "'Hey pop, I got something to show you.' I handed him the papers, and he was like, 'Is this what I think it is?'" Emerson recalled. "I said, 'I don't know. What do you think it is?'"
Pastor Emerson broke down in tears, telling Bernard, 'I was the last Emerson, and I thought my family name would die with me. Now I've got you, and the family name will live on.'"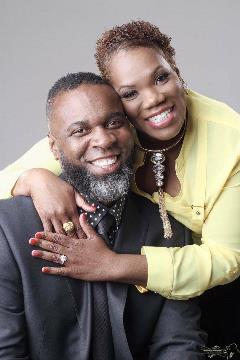 Truthfully, Bernard and his wife, Kim, have five children, all adults now. So, several more Emersons than Pastor Emerson anticipated will continue his heritage.
"He was a born leader"
Now living in south Atlanta, Pastor Emerson said he always knew Bernard was a special kid. The pastor who invested decades in others' spiritual maturity recognized Bernard's reverence for God and pastoral ministry. He wasn't surprised to hear of Emerson's greater opportunity a few weeks after he became Converge PacWest's regional president.
Related: Destroying the status quo
"Bernard has always demonstrated the kind of leadership others would follow," Pastor Emerson said. "He was a born leader."
Now approaching 90 years of life, Pastor Emerson added, "As an old man, being from the old school, I wouldn't have any problems following his leadership. He's effective, and he possesses compassion and concern. And he's not about himself but about others."
Emerson served at Zion for 20 years in various pastoral roles before leaving to plant The Way Church in 2014. He studied at Patten Bible College and earned bachelor's and master's degrees.
He is a natural planner and networker
The Converge PacWest search team and board invested several months looking for David Yetter's replacement, board chair Damon Owens explained. Even though Bernard Emerson was on the district's staff as urban church specialist, he had to go through several interviews as one of five candidates generated by a nationwide search.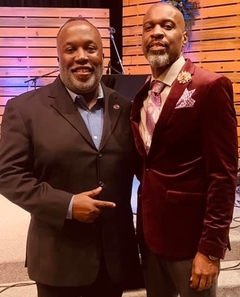 A few years ago, the district had a strategic planning session. Over two days, they created values and strategies for the changing culture, needs and demographics in northern California, northern Nevada and Hawaii.
"We needed a resurgence of church planting and missionaries so we could be more relevant. We needed more people to be active within their church," Owens said. A regional president who couldn't plan for and pursue the goals they already had as a district wouldn't do.
"We wanted highly effective leaders. We wanted the Lord's choice," he said. "Every candidate had to have a vision centered around our value-building cycle."
So, the board and search team planned, prayed and gathered — on Zoom — for months. Many meetings lasted six hours; one Zoom session even lasted nine and a half hours.
The search team finalized two candidates, including Emerson. A major reason for this, Owens said, was Emerson's planning skill and focus on achieving goals.
"Bernard was the only one who had a five-to-seven-year plan," Owens said. "That changed the game. Bernard's five-to-seven-year plan was very, very detailed."
Moreover, Bernard's plan didn't simply have to win over the search committee. He had to share it with the district's board of overseers. When it came to the district's challenges and the values of the local churches, Emerson's answers were better, Owens noted.
Having the partnership of the district's churches, especially close relationships with the pastors and their wives, was key to the board. "Bernard knew every pastor in the district even before he was a candidate," Owens said. "He's either been to their church, had dinner with them or had their business card. Bernard's the type of guy, if there's 100 people in a room, he would have touched everybody."
Owens said the board had no hesitation about Emerson's qualifications. Neither did the local churches who approved Emerson's new role at the biennial conference April 30-May 1.
"There's a lot of rich young rulers here"
"We need somebody that was going to go in there and fight in the most unchurched community in the country, the Bay Area," Owens said. "There's a lot of rich young rulers here. People have options here, and church is not always one of them."
Related: Beyond your doorstep
Bernard Emerson finds inspiration in the story of battles. He never gets tired of it, especially in his favorite Dragon Ball Z episodes. His youngest daughter is tired of the show, but he's not. "I love the storylines. I love the fight scenes," he said. "I'm a huge Dragon Ball Z fan. I love it."
In his new role, the fight begins with opening the front door, the first component of Converge's 10-year vision for the movement.
"We will see our biggest impact through church planting, outside affiliations and the sending of missionaries," Emerson said. "We need to open the front door [of Converge churches], especially when it comes to sending missionaries."
Choosing dedication over discouragement and division
While Bernard Emerson was serving at Zion Tabernacle, some resentment and chatter surfaced that Pastor Emerson was giving Bernard more preaching opportunities than he deserved. Pastor Emerson called all the other preachers into his office.
"If I was to ask you," he said to the preachers, "who is the most faithful minister that we have on staff, who would you all say? "Bernard," they answered.
"Who is the most dedicated minister?' he asked them. "Bernard," they answered again. "Then, why is it that some of you are going around saying, 'Bernard gets opportunities because he's my son?'"
The reason Bernard gets opportunities, the pastor told them, is because he's the most dedicated and faithful. Later, when it was just Bernard and Pastor Emerson, the pastor told him, "Don't stop being faithful. Don't stop being dedicated."
The natural networker and focused, loyal planner knows "better together" isn't a way of life for every Converge church. He also knows goals like planting 25 churches in five years or sending out five missionaries and training pastors and coaches for pastors requires the district's churches to work together.
He compares the power of being together to siafu ants in central and east Africa. The ferocious, nomadic ants move every day as an army of up to 20 million ants. Moving together, they overcome everything in front of them. "By itself, you could step on it," he says of a siafu ant. "But when they're together, man, elephants get out of the way."
Devotion like that could have kept the Raiders in Oakland.

Converge has a goal of planting 312 churches by 2026 and strengthening churches to be faithful to Christ's mission to make disciples. If you live in the PacWest district, learn how you can help churches bring life change to communities in the U.S. and around the world.
---
Ben Greene, Pastor & writer
Ben Greene is a freelance writer and pastor currently living in Massachusetts. Along with his ministry experience, he has served as a full-time writer for the Associated Press and in the newspaper industry.
Additional articles by Ben Greene

Converge vision & mission
---

Converge vision & mission