Santisuk's temple outreach
Steve & Nopaluck Cable
Missionary
---
I (Nopaluck) praise God for leading me to know Monk Milk, a 21-year-old Buddhist monk who is taking our English class. The first time I saw him was one evening in August 2019 when he came to our Friday night worship service, bringing with him his friend Monk Root. Then I saw him again and again in our school lobby and seized the opportunity to visit with him every time I had a chance. During our fourth conversation, he asked me if we could have American teachers go and visit their temple school.
Having lived in Bangkapi for almost 30 years, I was surprised to learn there is a school of junior and senior high novices in the temple compound. Praise God that our former student from 15 years ago, Monk Ton, who is 38 now, is also taking our English class at a more advanced level than Monk Milk. He had recommended Santisuk English School (SES) to him. Because we have been praying that "40% of our active Thai members will be men (now 33%)," I got an idea of reaching out to those monks and novices, and I am praying others will catch this vision too. Nothing is too difficult for God!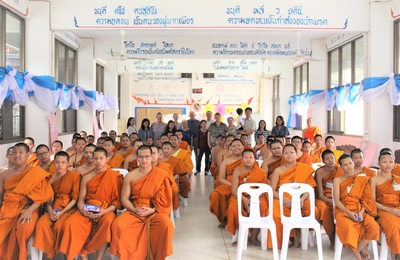 So, on October 31, I organized a group of 15 teachers and one little boy from SES to go to Sriboonreung Temple School to do an English program. My husband, Steve, and Ern (Thitiworada Nakarawong), SES campus outreach coordinator, led the program, with the help of Kwang, Monk Milk's teacher. The group consisted of nine Americans, including five Converge global workers (Mary Larsen, Sarah Adams, Deb Guzman, Steve and me), three Filipinos from Baptist Theological College in Cebu (Tom and Joy Trono with their son, Sky), Reaksa Seng from Cambodia and three Thai teachers (Ern, Kwang and Jun, SES office manager).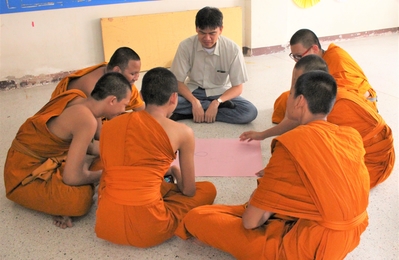 That day we reached out to 67 novices and two monks. Our program went from 1:30-3 p.m., and at the end, during our game time, we gave them goodies they do not get on a normal day: American Oreo cookies with some winning Ritz cracker sandwiches and cheese. Monk Ton said we were the first group ever to visit them, and Monk Milk later messaged me and said the novices had so much fun they were still talking about it in the evening. Well, we had a blast too!
One of our male church members heard about this event and commented to Ern that we were "very daring" to go into the Buddhist temple. I am still amazed at what God is doing and what he had us do. I commented to God, "Wow, you are having us go into the temple now?" God's love was shared that special day!
Updates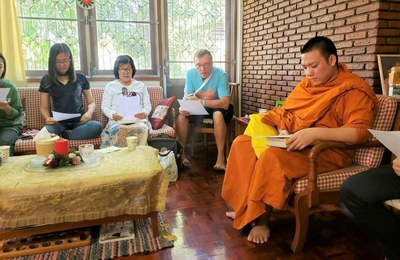 After that event, Monk Ton and Monk Milk attended my cell group's Christmas party at our house on December 8. For worship, I read from Isaiah 9:6-7 ("For to us a child is born …") and led in singing Christmas songs. My cell assistant gave a wonderful testimony.
If you would like to be a part of this temple ministry by praying, donating goodies or educational supplies, or visiting and helping with this ministry, please email me.
---
Steve & Nopaluck Cable, Missionary
Partner with the Cables as they use Bible-based English teaching to start 15 new churches by 2025.