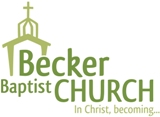 Associate Pastor
---
About Becker Baptist Church
Becker Baptist Church is located one hour northwest of Minneapolis/St. Paul. Our staff of 8 serves alongside a wonderful community of Christ-followers. We are affiliated with Converge North Central and Converge Worldwide. Our ministries include opportunities for all age groups.
Job description
ASSOCIATE PASTOR JOB DESCRIPTION
Reports To: Senior Pastor

Purpose: The Associate Pastor complements Becker Baptist ministerial leadership,
supports the mission and by-laws of BBC, has a passion to share the Gospel, teach and minister to
people, and a willingness to take ownership of new or existing ministry programs.

Qualifications:

• Express faith in Jesus Christ as Lord and Savior

• Be in full agreement with Becker Baptist's Affirmation of Faith and church covenant

• Have a passion for the Bible and teaching to a multi-generational audience

• Dependable, self-starter with the ability to work without direct supervision

• Strong organizational, administrative, written and verbal communication skills

• Personal qualities should include integrity, wisdom, humility, joy, compassion, authenticity
and servanthood

• Strong listening and problem-solving skills. Be able to maintain confidentiality and trust
in counseling situations

• Agree to become a member of Becker Baptist Church

Job Responsibilities:

• Work alongside and assist the Senior Pastor

• Learn the details of managing the affairs of the church

• General administrative duties

• Occasional Preaching

• Work with church committees as directed by the Senior Pastor

• Coordinate adult ministries within the church family

• Direct discipleship and small group ministries

• Be prepared to assume the responsibilities required to expand ministries within the church

• Other responsibilities may include counseling, pre-marital preparation, visitation, volunteer
oversight, church staff oversight, weddings, funerals, child dedication and baptism.

• Build relationships within our church family and the community

Education/Work Experience:

• Must have a college degree and be in possession of, or working to complete, a seminary degree

• Must be able to demonstrate career progression and job stability

Salary Range:

$50,000 - $55,000
Apply
Link to job posting:
Candidates interested in applying for this position should carefully read the documents in the links below.
To apply for this position, the following documents are required:
1. A cover letter
2. Your resume
3. Completed employment application
4. Your answers to "More About Me" questions
5. Any reference letters you would like us to see
Return to office@beckerbaptist.org or mail to:
Becker Baptist Church
P. O. Box 7
Becker, MN 55308
Upon receipt of these documents you can expect an email of acknowledgement. Our Search Committee will begin considering applicants towards the end of April. This posting will remain open through April and perhaps longer.