"I gained hope and faith"
Michael Smith
Converge Content Specialist
Point Magazine // September 2018
---
Dana Larkin was ready to give up on life in the summer of 2017. Suffering through depression, she had contemplated suicide. "I was so incredibly lost," Dana said.
Then, one day in Homewood, Illinois, the Chicago suburb where she lived, John Dewey came back into her life.
Dana and John knew each other in high school and had bumped into one another from time to time over the years. They became reacquainted when they began working out at the same gym. Soon after, they began dating, and it wasn't long before John shared his faith with her.
"I started sharing when I saw her pain and wanted to do something to help. I knew only Christ could heal her," John said.
Coming from a Catholic background, Dana at first was resistant to hearing about spiritual things. However, slowly she opened up and began asking John questions.
"Having a closer relationship with God was something I wanted, but I was always distracted by something else," she said.
"Dana was definitely resistant at first, but she had a huge curiosity," John said. "It gave me an opportunity to really plant my feet and trust that my words were coming from Christ."
He didn't always have an answer for her questions, but he says that's OK.
"I'd tell her, 'I don't know the answer, but we can look it up together.'"
One night, John asked Dana if she wanted to pray to receive Christ as her Savior. She said yes, and they prayed together.
I started sharing my faith when I saw her pain and wanted to do something to help. I knew only Christ could heal her.
John invited Dana to Woodlands Community Church in Homewood, where he was a member. She was nervous at first about attending, having rarely been to a gospel-focused church. However, she felt very welcome by the people and enjoyed the worship and the message from lead pastor Daniel Wentworth.
"I cried a little bit, had goosebumps and felt amazed by it all. I wanted to come back to learn more and experience that same feeling again."
After accepting Christ, Dana noticed several positive changes in her life.
"Each day I started to feel more and more of a relief. I gained hope and faith," she said. "I started listening to others more and became more thankful and grateful for every little thing. I became so much happier, when just a few months earlier I had been ready to give up on life."
Her relationship with John also grew in many ways.
"Everyone around us started telling us how much happier we looked. We would mention Christ multiple times in most of our conversations," she said. "We grew stronger together. Our relationship is such a blessing."
"Jesus died for each of them. We have to tell them."
John, who was baptized at Woodlands in January 2017, had the privilege of baptizing Dana at the church last February 25. Two weeks later, the couple were married there.
"To have John baptize me felt perfect," Dana said. "He had opened my mind to the gospel. He had led me to build a relationship with Christ, and he never gave up on me. Nothing felt more right than being baptized by him."
"God used me," John said. "It's a blessing to know you get to spend eternity with somebody you want to spend the rest of your life with. That's a really good feeling."
John says his experience with Dana has made him want to share his faith with others more often.
"God had given me all the tools. I just need to trust that sharing my faith is what I should do and I'll be OK," he said. "I won't have to worry."
Pastor Wentworth says John and Dana's story of life transformation is one of many that emerged at Woodlands in the past couple of years.
"They are why we created and continue to have an outreach-focused culture," he said. "Our city is filled with people like John and Dana. Jesus died for each one of them. We have to tell them. We have to let them know Jesus loves them and will transform their lives if they'll let him."
Read more stories of life transformation at Woodlands Community Church:
Illinois family receives spiritual, emotional healing
How God transformed the lives of two men from India
---
Michael Smith, Converge Content Specialist
Michael Smith serves as Converge's content specialist. He has nearly two decades in the newspaper publishing industry. Michael worked as a copy editor and designer for the Tampa Tribune for more than a dozen years. He also was a member of the editorial staff of Florida Baptist Witness and other publications across the Southeast.
Additional articles by Michael Smith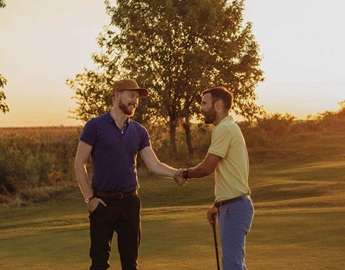 ---