Story
Thom and Ellen have been serving the Lord and the people of Cameroon since they arrived in the country at the end of May 2001. Prior to that, Thom worked as the owner of a general contracting firm, and Ellen had her own housecleaning business. After praying for guidance in God's will for our lives as my business seemed to be taking over the bulk of my life, they received an answer in the form of a visitor from Cameroon who was hosted in their home during a missions conference in our church. Missions was not even a thought at the time, but when the visitor who is now their boss in Cameroon said he believed God had sent him to their home because he wanted them to serve him in Cameroon, they knew it was an answer to prayer. Their roles in Cameroon have evolved over the years as relationships developed and deepend, and new opportunities appeared. At this point, in addition to and in conjunction with their teaching, building and leadership activities, they encourage those they work with and teach to see everything they do in life as ministry and sharing the Good News of Jesus.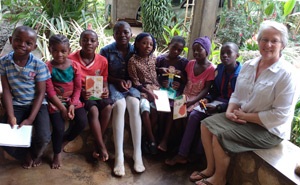 Cameroon //
Our greatest privilege is joining Jesus in what he is building: his church. When we reach across the street and around the world with the gospel—locally and globally—we impact lives for eternity.
Personal ministry funds
Donate to a missionary to help provide specific tools and equipment needed to advance local ministry.
Live out your faith today. Help take the gospel to the ends of the earth.