Story
Their Story
Jeshua and Kaitlyn met at Trinity Baptist College, connected over their hearts for Jesus, and shared a passion for growing His kingdom. Jeshua visited Converge's team in West Africa, the 6° Initiative, and felt that God wanted him to pursue opportunities with them in Benin. Kaitlyn soon joined Jeshua in that passion for the unreached of Benin and for the mission of the 6° Initiative. They got married in January of 2021! They were appointed to be the first family of the team to advance the team's ministry to Benin.
The Need
The city of Ouidah, Benin has a population of over 100,000, and less than 1% of these people go to an evangelical church. Benin is known as the birthplace of the voodoo religion, which is still accepted as one of Benin's official religions. Ouidah's annual voodoo festival is the largest of its kind in the world. The people of Ouidah are stuck in darkness, hopelessness, and fear. Without gospel-centered churches, the people will be stuck in this deceptive religion and will never have the chance to experience the light, hope, and freedom of Jesus. As Christ followers, we have a monopoly on the greatest story of all time, and these people are in desperate need for someone to share it with them.
The Vision
The 6° Initiative is praying that God would raise up 190,00 disciples in 10 unreached people groups in Togo and Benin. Ultimately, Jeshua and Kaitlyn know that these 190,000 disciples will be a result of God working through disciples that make disciples and churches that plant churches. The 6° Initiative is already implementing this strategy in Togo, and Jeshua and Kaitlyn will expand the team's ministry by carrying it out in Benin. They will establish churches that multiply and take over the city, train local pastors to lead the churches, and evangelize and disciple believers to continue God's work with them. Jeshua will work with men and equip them as pastors and leaders, and Kaitlyn will work primarily with women and children through relational discipleship. Their desire is for God to use them as willing vessels with open hands for His glory. It is His work, and it is a blessing to be a part of it.
Contact Us:
jeshuam@converge.org
kaitlynm@converge.org
Subscribe to Our Monthly Newsletter:
moorenews.org/subscribe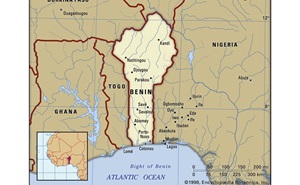 Personal ministry funds
Donate to a missionary to help provide specific tools and equipment needed to advance local ministry.
Live out your faith today. Help take the gospel to the ends of the earth.