Story
I have served as a Converge pastor for 33 years. During that time, I ministered in an established Converge church, first as an associate pastor and then served as Senior pastor for a total of 10 years in Omaha , NE. In 1992, I planted Woodcrest church, Eagan, MN and served as its Senior pastor for 23 years. In January 2014, I heard that Converge could plant a church for $333. In July of that year, I traveled to India to see this church planting strategy in action. There I saw the great need in the 10/40 Window where people have very little access to the gospel message. I met national leaders who invested their lives to advance the gospel and make disciples in their communities. God used that experience to touch my heart deeply, and in January 2016, I became Converge's Director of Church Planting Partnerships. I work closely with The Timothy Initiative, mobilizing Converge churches into a fruitful partnership with national leaders to plant churches in the least-reached regions of the world. By God's grace, through the Converge and Timothy Initiative partnership we have seen thousands of house churches planted by making disciples who make disciples. I also serve on the U.S. Engagement Team for Converge International Ministries. In this role, I seek to connect our Converge churches and their leaders with the 180-plus Converge missionaries and their initiatives around the world. I serve as a coach for the Focus 2:10 process. Better together, we seek to live out the vision of "asking God for a gospel movement among every least-reached people group in our generation."
Read my latest Global Church Multiplication Newsletter
Subscribe to the Global Church Multiplication Newsletter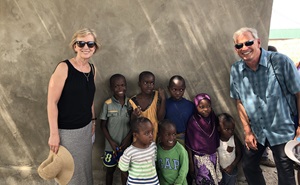 Personal ministry funds
Donate to a missionary to help provide specific tools and equipment needed to advance local ministry.
Live out your faith today. Help take the gospel to the ends of the earth.