Luke 1:37 For with God nothing will be impossible.
Pastor Ken Danielson, and his wife Linda serve as Converge North Central Missionaries to Native families around the Lake of the Woods area of Minnesota and Canada. The ministry is two fold, a church plant in Warroad, MN named "All Nations New Life Center", that serves the Native and local community through Bible study, worship and prayer. The second half of the ministry includes Bible Study, Bible School and door-to-door evangelism on Canadian reserves on Lake of the Woods.

It is our desire to see lives changed through God's Word and loving relationships; to see forgiveness and worship of our Lord; and to see Native elders and pastors raised up to preach and declare freedom in Christ.

Numbers 14:21 ...but truly, as I live, all the earth shall be filled with the glory of the Lord.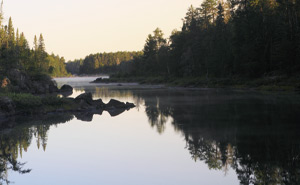 Lake of the Woods area of Minnesota and Canada.
//
Help Ken & Linda as they minister to Native Families in the Lake of the Woods area.