Fears disappear while sharing the gospel in the Mediterranean
Joey & Carol Mimbs
Missionary
---
When I first learned we would be helping distribute gospel materials to North Africans entering Morocco from Spain, fear filled my heart. While I have been in ministry for over 40 years, this was a very new experience for me. Many preconceived ideas concerning North Africans went through my head. I began asking myself questions: What would be their response? Would this be confrontational? Could I really do this?
Angie, Converge's Great Sea Port Project leader, quickly alleviated my fears as she began her training session with us. We learned the Arabic phrases to greet people and offer them the materials. Practicing the phrases together built our confidence. Angie gave us practical tips on the "do's and don'ts." Praying together calmed my heart. God was in this!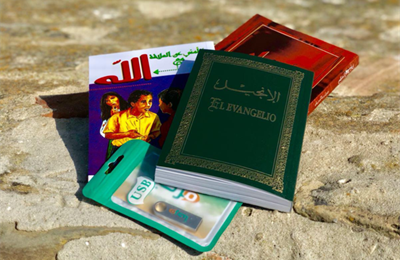 When we arrived on the street, I felt as prepared as one can feel going into a new ministry. Within five minutes, two of my packets had been accepted! Those who refused were polite. My fear had been replaced with excitement. God was using me to give Bibles, Jesus films and evangelistic materials to people of another faith who needed a personal relationship with our Savior.
I also had the privilege of having an extended conversation with a man named "Sammy" while he sat in his car waiting to cross the border. I got to share my faith with him. I told him of the hope that is found in Jesus Christ. I encouraged him to read the stories of Jesus in the Gospels. Later that evening, I gave a packet of material to a young man waiting on the sidewalk. Can you imagine my joy as I saw him reading the Bible as he waited to enter Morocco?
I began walking up and down the line of stopped cars waiting their turn to cross the border. I prayed over each vehicle. I saw people reading the literature. God was at work! I continue to pray that children will come to Christ while watching the Jesus film. I pray for those seeking hope that they will find it in Jesus. I continue to pray for "Sammy." I pray for the young man on the sidewalk. I want to see them in heaven one day.
I highly recommend churches send teams to assist in this ministry. Angie and her team will prepare you; God will empower you; and your participation will change your life. Souls are coming to Christ through this distribution ministry. I'm so glad I got to participate. I pray you will, also.
The Great Sea Initiative is asking God for gospel movements among Muslims in the 21 countries around the Mediterranean Sea. As part of seeking these movements, the Great Sea Port Project shares the gospel with tens of thousands each year. Find out more about how you can be a part by connecting with Angie.
---
Joey & Carol Mimbs, Missionary
Partner with Joey and Carol to provide vital care to keep over 100 Converge global workers strong as they start and strengthen churches across Africa, Europe and the Mediterranean.