The Divine Doorkeeper — Ericka's miracle
Discipleship & spiritual formation
---
Everyone hopes miracles happen. Ericka is living proof they do.
Before Hurricane Dorian, Ericka attended church irregularly and had no eternal security. During Dorian, God intervened dramatically to change Ericka's very foundation of trust. Now, with almost no earthly security, she has a firm foundation and will tell you, "In him, I am secure."
Growing up, Ericka heard stories of miracles. Now she says, "I have my own miracle," and with good reason proclaims, "Doors he opens no man can shut, and doors he closes no man can open."
Ericka's life changed September 2 on Grand Bahama island. Dorian, a Category 5 hurricane, sustained 185 mph winds for two torturous days over the Bahamas, with the storm surge reaching as high as 23 feet in some places. Ericka, her husband, Stevenson, and their adult daughter, Natori, had braced themselves for Dorian by moving from their coastal home to an inland apartment. But an extreme storm surge from the north forced them out of it at midnight and into a living nightmare. At that point, Stevenson was separated from Ericka and Natori.
Ericka fought to survive the horrendous night amid the raging debris-filled storm surge and whipping hurricane winds. She remembered promises spoken over her in the past and questioned God about why would it be her time to die without them being fulfilled.
As Ericka gripped a downed dead power cable in one hand, she held onto her nearly drowned daughter with the other, serving as Natori's physical lifeline for three hours. As Natori weakened, Ericka commanded her not to give up and to keep holding on. Ericka cried out to the Lord, pleading for his mercy.
The timing, nature and outcome of what happened next left Ericka in awe of what she could only explain as the miraculous intervention of the hand of God. Suddenly, mother and daughter were thrust by a mighty wave, breaking their grip on the cable, carrying them across the flooded street and pushing them up against a house. The surging water forced open the front door and deposited them safely inside. Without any delay or human touch, the same door that welcomed them in firmly shut.
Ericka and Natori had little time to absorb their deliverance. There was much water inside the strange house, and they had to figure out where they were and how to protect themselves.
It was dark, just after 3 a.m. The winds howled, the rain poured and the waves pounded the house. Thankfully, the flashlight she had stowed away in her garment survived the surge and now lit the way while they struggled through five feet of water in search of the attic. She soon realized the house belonged to a minister at her church who had evacuated before the storm. Excitedly, she discovered on a bed an open Bible and turning its pages read Psalm 91 and decidedly trusted God to protect her family's lives as she read, "He is my refuge and my strength, my God who I trust."
But stormwater gushed through broken windows. As the water level rose higher and higher, so did Ericka's faith. As they stood on chairs to escape the water, she also stood on God's promises. With the early dawn came new hope: The water stopped rising — and then began to recede until it was only ankle deep. The morning light revealed mud and debris everywhere. They had survived. Had Stevenson?
Looking through the broken window, Natori scanned the area, searching for her father. Both she and Ericka agonized at the thought of his absence. At some point, they thought they recognized a figure struggling outside in the storm. Was it Stevenson? They shouted to him, and against the odds, he made it over to them. He had to crawl through a shattered window because no one could open the front door. It had shut them in.
Stevenson's wrists and hands were bleeding badly, nearly severed by broken glass hurled his way in the surge. A diver by trade, he was acquainted with the ocean, but nothing like this. For seven traumatic hours, Stevenson clung to a broken streetlight, calling to God for mercy. Now inside, the family opened a watertight bag Stevenson had attached to himself. It contained key documents, painkillers and antibiotics, all of which were needed. Stevenson took the medicines.
They remained in this miracle house riding out the historic hurricane until the next day, when it was safe for rescuers to reach them.
Stevenson was airlifted to Nassau, where, due to infection, doctors planned a double amputation of his hands to save his life. With Ericka's urging, since he could wiggle fingers slightly, and with help from the Haitian consulate, Stevenson got special urgent medical help in Haiti. The picture is graphic, but he has kept his hands and is recovering with Haitian relatives. Presently apart, Ericka and Stevenson know that they were spared for a reason and that their lives are in God's hands.
John 10:28 reminds us, "My sheep listen to my voice; I know them, and they follow me. I give them eternal life, and they shall never perish; no one will snatch them out of my hand." Ericka's story is encouraging, letting us know that no one or nothing can ever snatch us out of God's hand. Even when we lose our grip on life, God keeps us for eternal life. God is sovereign, all-powerful.
In Revelation 3:7 Jesus is the Divine Doorkeeper, the "One who is holy and true, who holds the key of David. What he opens no one can shut, and what he shuts no one can open."
Ericka does not doubt the miracle her family received — the Lord opened that door, took them in and slammed the door shut until rescuers arrived. God used a door miraculously during Hurricane Dorian to save their lives, just as Jesus is the miracle Door delivering us all from dire circumstances and sealing us safely in the Heavenly Father's house. Maybe, by God's grace, the lesser miracle served a greater miracle by helping Ericka open the door of her heart to God.
Ericka is suffering the loss of many close relatives, friends and coworkers and everything she owned. It is indeed sorrowful beyond words. Yet there is also profound rejoicing as she in her heart holds to the testimony found in Matthew 16:13-18 that Jesus is "the Christ, the Son of the living God." Christ owns Ericka, and Ericka has eternal security in Jesus Christ alone.
Ericka still trusts God as her refuge and strength as she comes to grips with the reality of the storm's aftermath. Like many in the Bahamas, she and her husband and daughter have been traumatized and now grieve the loss of loved ones while still homeless, jobless, carless and in need of basics such as food, clothes and water. She also needs funds for Stevenson's ongoing medical recovery.
Even the Emmanuel Baptist Church Discipleship Center she attends, local engineers say is beyond repair and must be torn down and rebuilt. Her brother and pastor, Israel Pinder, prays for wisdom to lead and strength for all of his church members. He also hopes for a church van or bus to enable dispersed members like Ericka to continue their meetings as a congregation, now under a tent.
They are not churchless — they, and we, are the church — and the global church is responding.
Practical help has arrived as a result of prayer, self-sacrifice and generosity. God inspired many saints to converge and fill, ship, import and recently deliver a large container to provide practical, personal items to the needy High Rock community.
Ericka's prayer is that her miracle story is "an inspiration to many and will move hearts in Jesus' name to know that God is a present help in times of trouble, and there is nothing too hard for him." She adds, "What he has done for me, he can do for anyone who will only trust and believe. I am taking one day at a time, and if my God takes care of the fishes of the sea and the birds of the air, how much more will he take care of me his child?"
Your generosity helps Converge Southeast purchase necessities and send more containers to the Bahamas to help Ericka and others, including Converge churches, recover, rebuild and reach their communities with the gospel of Jesus Christ. Give to the Converge Bahamas Hurricane Relief Fund today.
For more stories and videos of God's grace and mercy during and after the hurricane, visit the Converge Southeast Facebook page.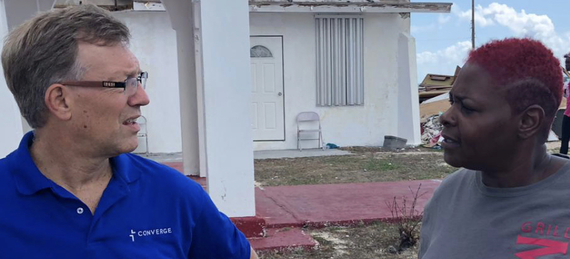 Ivan Veldhuizen, executive director of Converge International Ministries, talks with Ericka during his recent visit to the Bahamas.
---
Jennifer, Missionary
Jennifer and her husband, Tom, are Converge missionaries making and multiplying mature disciples and disciple-making churches in the Caribbean Basin.
Additional articles by Jennifer