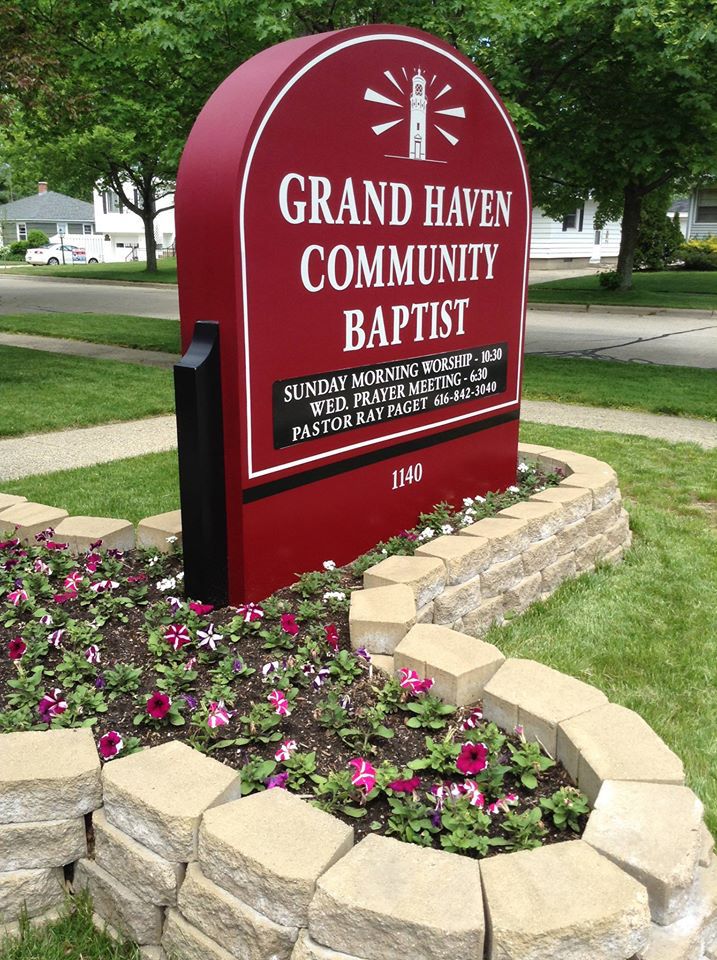 Senior Pastor
---
About Grand Haven Community Baptist Church
We are a multi-generational fellowship, encouraging one another in the faith, supporting each other in our daily walks, and gathering together in unified faith to give praise and glory to God, in the name of his Son Jesus Christ, in the power of the Holy Spirit.
Our fellowship is located in the city of Grand Haven, Michigan, which sits on the eastern shore of Lake Michigan, about 35 miles west of Grand Rapids. We are a popular vacation destination for thousands of families and individuals. We are known for our beautiful beaches, an inviting boardwalk, picturesque lighthouse, Musical Fountain, boating, charter fishing and marinas, and a unique downtown with wonderful shops and great places to eat. Grand Haven is also known as "Coast Guard City USA" and hosts each summer a week-long Coast Guard Festival, culminating with a spectacular fireworks display. Additionally, we are home to the annual Worship on the Waterfront, featuring top Christian music artists throughout the summer months. It is a great place to live and raise a family.
Job description
Job Overview
We are looking for a senior pastor who desires to lead, serve and grow our congregation. He will need to understand and work with our existing partnerships with Converge MidAmerica and Converge Worldwide. He should be able to fulfill the following responsibilities while possessing the following qualifications.
Formal Responsibilities
Leadership Skills

The creativity to envision new possibilities for the ministry of Grand Haven Community Baptist Church.
The ability to think strategically about opportunities and challenges.
Identify and communicate clear goals and effective strategies to achieve them.
Develop an effective ministry team with staff and lay leaders.
Realistically assess situations and take appropriate actions.
The awareness of and ability to employ current technology for effective ministry.
Shepherd and develop the Board of Deacons and ministry leaders.

Communication Skills

Strong biblical preaching for life transformation.
The ability to teach and communicate God's Word in a variety of settings.
Cast and communicate a compelling and clear vision for Grand Haven Community Baptist Church.
Oversee written communications throughout the church.
Oversee worship planning and preparation to inspire the church and reach the community.

Relationship Skills

A strong encourager and lover of people.
Effective at interpersonal communication both as a listener and a speaker.
Able to develop and employ the unique strengths of others.
Able to be a healing presence in conflicted relationships both personal and corporate.
Qualifications
Personal Qualities

Meet the New Testament requirements for office as listed in 1 Timothy 3:1-7 and Titus 1:6-9.
A strong devotional and prayer life.
An inherent grace orientation in their relationship to God and other people.
Energy and passion in implementing ministry.
Attitudes and behaviors guided by biblical principles.

Professional Qualities

Embrace and hold the Affirmation of Faith of Converge MidAmerica & Grand Haven Community Baptist Church.
Maintain a baptistic perspective in theology and policy.
Prefer, but not required, a Master of Divinity degree from an accredited seminary or Bible College.
Some experience in a Senior Pastor or comparable role in a church of at least 100 is preferred.
Experience in and/or a heart for reaching West Michigan is strongly preferred.