EVENT
2020 Men's Retreat
Mount Hermon Conference Center
Join us March 6-8 at Mount Hermon!
This Men's Retreat 2020 will display how to live in God's power as a daily pursuit! Download the brochure to find out more. Registration for this retreat should be made through your local Converge PacWest church.
Please contact your church's Men's Ministry point person for the registration deadline and other important info.
RECREATION: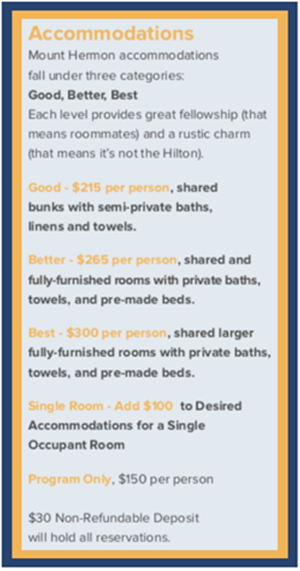 6-Man Volleyball Horseshoes
3 on 3 Basketball Dodgeball
Bowling Tournament* Table Tennis
*additional cost for bowling
THE ACCOMMODATIONS:
Each accommodation level provides great fellowship (that means roommates) and a rustic charm (that means it's not the Hilton). Find details to the right.
THE SEMINARS:
There will be several seminar opportunities on Saturday. Check back in a few weeks for a list of the seminar topics and presenters.
SCHOLARSHIPS:
General Scholarships and Urban & Very Rural Scholarships are available this year through the generous giving of men at a prior retreat that felt finances should not prevent guys from attending and growing spiritually. General scholarships will be in partnership with and support from your church. Urban & Very Rural Scholarships are dependent on the applicant's approval from the church. Please see your church's retreat registrar for more information. All scholarship applications are due to Converge PacWest by Friday, January 31, 2020.