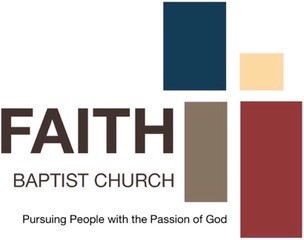 Family LIfe Pastor
---
About Faith Baptist Church
Faith is a fellowship of Christ-followers who by faith and through God's grace have placed their trust in Jesus' death to pay their personal debt to God for their sin. In this faith, we are saved from God's wrath and sin's penalty which separated us from God. In this faith we are placed into the family of God as his child. As part of the family of God, we have an obligation to live like God wants us to live. He is our Father, so we desire to follow His son Jesus and to do what he has asked us to do. In this way we bring honor to God our Father, Jesus Christ the Son, and the Holy Spirit.
Job description
Qualifications
1. Growing personal relationship with Jesus Christ.
2. Solid knowledge of the Scriptures with teaching ability.
3. Able to work with all ages of people.
4. A team player with good communication and conflict resolution skills.
5. Gifted in leadership, spiritual development, and pastoral care.
6. Good administrative skills with the ability to train and delegate.
7. A college degree and have experience in discipleship ministry and/or a Master's Degree
from an accredited Seminary.
8. Technological abilities related to computers, networking, social media, etc.
Working Relationships
1. Provide direct leadership to the Children's Ministry Team.
2. Provide oversight for Youth Ministry Team.
3. Collaborate with other ministry teams to provide a unified ministry for the church.
4. Commit to working with present and future church staff and volunteers.
5. Partner with and report to the Senior Pastor about ministry responsibilities.
Apply
If you are interested in partnering with us in growing this church and believe God is asking you to consider being the Associate Pastor of Family Life at Faith, please send a cover letter and resume to Mandy Johnson at Converge P3Next a mandy@convergerp3.com