Choosing to Collaborate
Joel Nelson
Director of Church Strengthening, Converge North Central
---
On a misty morning in Vienna in October 2019, the first human in history ran a marathon in less than two hours. Eliud Kipchoge ran the 26.2 miles in 1:59:40. That's averaging one mile about every four and half minutes – for 26.2 miles!
This was not a marathon record as it wasn't an official marathon. The location, circuit, time of year and time of day were all carefully chosen to help Kipchoge run a sub-2 hour time. He was also the only one running, well, sort of...
In addition to the thousands of spectators who had gathered along the course to cheer support and encourage, Kipchoge had a team of 41 pacers. These pacers were themselves some of the best middle and long-distance runners on the planet. They ran seven-at-a-time in a wind blocking formation, devised by an aerodynamic expert. (Imagine the Mighty Ducks ("Flying V", but reversed.)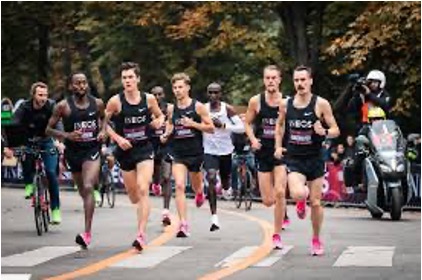 And so, competitors became collaborators.
Instead of competing with each other, "teammates" trained and worked together. They paced, they cheered, and they journeyed alongside. As a result, together they accomplished something that seemed unattainable, and even after-the-fact, seems unbelievable. The picture of Kipchoge approaching the finish line tells the story. He didn't accomplish this feat alone. The arms raised and the smiles on the pacer behind him tells a much more important story. A story of collaboration leading to success.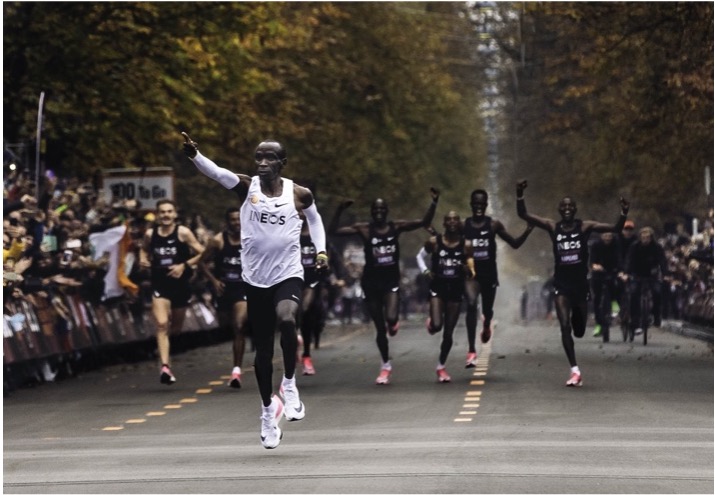 What can happen when we work together?
Consider the value of being a part of a collaborative network:
Benefits to your ministry, your church, and the Kingdom.
There is a vision benefit as collaborative networks often dream bigger God-sized dreams than an individual. Relational benefits are found in strong friendships that are the result of being on mission together. A results benefit happens as collaborative networks are focused on clear outcomes. Accountability gets results that usually don't happen when someone is working on their own. A final benefit is a Kingdom benefit. It's hard to make it "all about me" when I'm a part of the group. It's easier to keep the focus on Kingdom things.
You are a part of a community of friends.
Research shows that in church planting, there is a 125% increase in the church surviving if the pastor meets in a peer-to-peer group. That benefit isn't just limited to new churches. As you find people who speak into your life and your ministry and you speak into the lives and ministry of others, you have greater success.
In Greek mythology when Odysseus was headed off to war, he wanted someone to care for his son Telemachus. That duty was assigned to an older, wiser, responsible man named Mentor. Whether you identify with Mentor and want to multiply yourself for the good of another, or with Telemachus who is seeking to learn from someone with a few more miles on their ministry odometer, a collaborative network is a great place to start.
It's a great place to learn.
Everyone has their own experiences, stories, and ideas. There's a value-add when you expand this to a larger group. The most natural expansion is to colleagues or family. From there, it might be expanded to a church and it's leadership. But the greatest value-add can occur when it goes to a larger network, outside of your current organization or ministry.
Looking for a collaborative network?
Converge North Central has recently launched a network of regional teams and every CNC pastor is invited to be a part of their local collaborative team. If you haven't been contacted about what's happening in your area, contact our office.
Eluid Kipchoge was able to run 26.2 miles in less than 2 hours. He did it with the help and collaborator of others. Afterwards he said, "The pacers did a great job, they are among the best runners of all time. I thank them and appreciate them for accepting to do the job." He summarized what he hoped to accomplish with this feat with, "I wanted to run under two hours and show human beings can do a good job and lead a good life. It shows the positivity of sport. I want to make the sport an interesting sport whereby all the human beings can run and together we can make this world a beautiful world."
Let's take that same collaborative spirit to change the world and apply it to the Kingdom of God.
---