Story
Wilondja gave his life to the Lord at 16 years of age after receiving a Gideons New Testament at his high school. This started him on a 20-year journey of becoming a chaplain, pastor and a member of CRU. After graduating from the Conservative Baptist Seminary in DRC Congo, he was an associate pastor in charge of training elders, deacons and evangelists in an indigenous church in Kinshasa, Congo. Wilondja also had the responsibility of establishing a two-year Bible school with two other teachers from their denomination. In addition to that role, he was responsible for the coordination of the Youth Education for the entire country of Congo. God taught him about church planting during the next few years as their church planted over 100 churches around the capital city. Since he was also an associate staff of CRU, the church used the Jesus Film in its church planting efforts. After he and Shirley married in 1998, God answered his prayer to become a full-time missionary with his wife in 2000.
Shirley was called into ministry in 1981 while working on her Ph.D. at Virginia Tech. While being a math instructor, she got involved with CRU, evangelism and discipleship with African women studying on campus and Bible Study Fellowship (BSF). The next few years were a pursuit of God's will in her life. Shirley wondered if she should go back into the educational system after finishing her degree or be obedient and immediately go into career missions. The latter was God's reply, so Shirley went for a test run concerning missions with CRU and taught math in Nigeria, West Africa. In 1983 she left the United States, spending five years teaching high school and working as a facilitator to help launch a student-led ministry at the University of Jos. God grabbed Shirley's heart during the first two years and her desire was to pursue a seminary degree and return to West Africa as a career missionary. After working on a degree in Intercultural Studies from Trinity Evangelical Divinity School, she became a missionary candidate with Converge Worldwide/BGC in 1990. After raising her financial support, she went to Paris, France, in 1992 to study the French language for 15 months and went to Cameroon, West Africa, as a career missionary. God has used these unique experiences and opportunities to prepare Wilondja and Shirley for a ministry to impact a variety of ethnic groups in and outside Cameroon for his glory. Pray for us because of the enormous challenge of those involved in African Traditional Religion through venerating the skulls of their ancestors.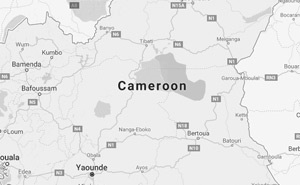 Bafoussam, Cameroon, West Africa //
On the map, find the city of Bafoussam, left of the word "Cameroon." This is where we are ministering and living.
Personal project fund
Donate to a missionary to help provide specific tools and equipment needed to advance local ministry.
Live out your faith today. Help take the gospel to the ends of the earth.