My story
Haiti is one of the most hurting and impoverished countries in the Western Hemisphere. Famine and contaminated water inflict a host of diseases and fatal illnesses, targeting the young and helpless. Orphanages are raising a large percentage of the current generation of children. The last decade has been a story of earthquakes, hurricanes, displaced people, cholera and crisis. Haiti's poverty, hunger, illiteracy and poor healthcare make the future of Haiti uncertain.
One by One Haiti, a ministry of Converge International Ministries, mobilizes community development partnerships to improve the quality of life for Haitian children, their families, and communities. We partner with Haitian churches and schools to develop local, Christian leaders who will transform Haiti for Christ. Doing so enables hundreds to have a quality education that focuses on academics, spiritual training and discipleship.
With the help of churches like yours, we are able to provide food, a Christian education and basic healthcare to children in Haiti.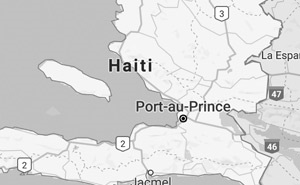 Haiti //
Maissade, Leogane and Port-Au-Price
Personal project fund
Donate to a missionary to help provide specific tools and equipment needed to advance local ministry.
Live out your faith today. Help take the gospel to the ends of the earth.