Story
Lee (American) & Regina (Brazilian) are church-planting missionaries serving in Brazil through the Converge Southern Cone Initiative (portions of Brazil, Argentina and Uruguay). Brazil's overall population is greater than 207 million people, with 29 million people in the three southernmost Brazilian states who have never heard the gospel of Jesus Christ. During the past eight years the Blochs have focused primarily on church strengthening in cities south of São Paulo, investing in church leaders who are now working to strengthen other national church leaders. In 2017, the Blochs shifted their ministry focus to church planting. Their goal is to plant churches in least-reached areas of Southern Brazil and to help Brazilian churches multiply and develop Great Commission pathways into all the world. Lee and Regina want to see the Gospel preached to the least reached—those who have never heard of Jesus. They invite you to be part of their team and part of what God is doing in South America by joining them in routine prayer and monthly financial partnership today.
Visit our ministry website at The Gospel of Christ for Least Reached Latin America
Visit our Initiative website at The Southern Cone Initiative
Join our Monthly Financial Impact Team by Pledge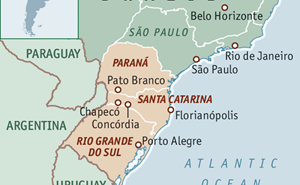 Southern Brazil //
Santa Catarina, Brazil, is one of three states with less than a 5 percent evangelical population.
Personal ministry funds
Donate to a missionary to help provide specific tools and equipment needed to advance local ministry.
Live out your faith today. Help take the gospel to the ends of the earth.