My story
What if God visited Scotland with his grace and love, and sparked a great turning unto the Lord? 97 out of 100 Scottish residents are not born-again Christians. But God desires that all should be saved, and he is on the move.
We are committing two years to serving local churches in Scotland by praying for, and working toward, the revitalization and evangelization of these lost people. We are heading to Edinburgh, Scotland, to serve alongside St. Columba's Free Church in the Lord's work of spreading the gospel through discipling local leaders, planting churches, and evangelizing our UK neighbors.
This nation is in a great moment of darkness, but "the light shines in the darkness, and the darkness has not overcome it." The heart of Christ is for the lost, the weary, the heavy-laden, and the broken-hearted. Will you join us in this movement of God?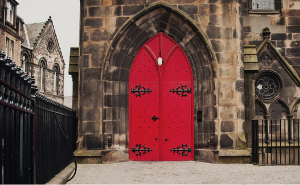 United Kingdom //
St. Columba's Free Church is a city-centre church committed to the Gospel of Jesus Christ in worship, mission, community and discipleship, with a vision to plant churches in and around Edinburgh.
Personal project fund
Donate to a missionary to help provide specific tools and equipment needed to advance local ministry.
Live out your faith today. Help take the gospel to the ends of the earth.