Story
Over the next two years I will be working as a Converge missionary with the Alliance for Transatlantic Theological Training (AT3) in the United Kingdom. In a nation of over 60 million people, less than 3 percent of the population is made up of Evangelical Christians, and it is our vision to train up leaders and churches to see this number grow. During my time in the U.K., I will be working and serving in the local church as well as obtaining my Master's Degree in Theology.
I am asking you to pray about embracing this Gospel movement amongst the people and Churches of the United Kingdom. The work we are doing through AT3 is energizing the churches and providing local leaders the ability to lead their churches in a way where people can encounter Jesus, engage in their faith, and be empowered to serve Him in their communities and around the world. It is an honor to partner with you as we follow God's call towards reaching the people of the U.K. and we are excited and expectant to see how God grows His church and his people as a result.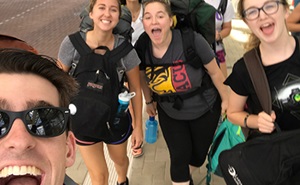 United Kingdom //
To follow the Great Commission is to step into one of the great Joys of life. As we embark on the journey of showing Christ to the people of the United Kingdom, we are eager to see a great revival of the Gospel both in the UK and around the World.
Personal ministry funds
Donate to a missionary to help provide specific tools and equipment needed to advance local ministry.
Live out your faith today. Help take the gospel to the ends of the earth.