Story
Delainey, Malakai, and I are embarking on another new journey that we want you to participate in (other than the journey with our beautiful newborn)! In this season, we believe the Lord is leading us to serve Him in the United Kingdom. Many have spoken to me about how they see the church is dying in America. An organization called Alliance for Transatlantic Theological Training (AT-3) reveals, "Such vast secularization happened more than a generation ago in the United Kingdom. By 2025 only 4.5% of the population will attend a church of any kind: Anglican, Free, Methodist, Catholic, etc." For this reason, we have joined the Alliance for Transatlantic Theological Training in a 2-year training apprenticeship beginning August 2019.
AT-3 is a UK based organization that works with a close-knit network of local churches in the UK and US to train up leaders for ministry to reach the people of the UK to know God, revitalize, and plant churches. We will be placed in a local church in the UK to serve while I will be also receiving theological training at Union School of Theology. We have joined AT-3 to bring those without God into a saving relationship with God and to edify the people of God for the glory of God! Will you participate with us in and for the gospel? This is the good news that Jesus saves from sin and death and unites us back to God!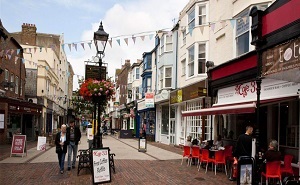 United Kingdom //
We are headed to Worthing, England. Our greatest privilege is joining Jesus in what he is building: his church. When we reach across the street and around the world with the gospel—locally and globally—we impact lives for eternity.
Personal project fund
Donate to a missionary to help provide specific tools and equipment needed to advance local ministry.
Live out your faith today. Help take the gospel to the ends of the earth.