Youth Use Gifts to Serve Others
Scott Conner
Pastor Alcester Baptist Church
---
A group of 32 students and eight adults from Alcester Baptist (Alcester, SD) and Faith Baptist Fellowship (Sioux Falls, SD) recently spent three days in the Kansas City area on a mission trip. The theme and mission of the trip came from 1 Peter 4:10, "As each has received a gift, use it to serve one another, as good stewards of God's varied grace."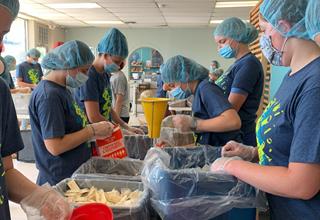 Serving others was the key focus of the trip as the group helped refurbish some community gardens and helped pack meals for those in need. The trip also provided opportunities for fellowship and for students to grow in their faith. For many of the students, this was their first experience on a mission trip.
"I was impressed with how the students came together, worked hard, and learned what it meant to serve," said Pastor Scott Conner, one of the sponsors on the trip. "Before and during the missions trip, we studied scripture passages teaching us that serving is an outpouring of our appreciation of the grace that we've received from God through Christ."
The team served with the
Kansas City Community Gardens
organization helping clean out overgrown garden beds in two different locations. The team also helped packed meals for the
Something to Eat Organization
, located in Kansas City, Kansas. The team packed meals that were distributed the same day to households that experience food insecurity. The team learned that one in five children in Kansas City lacks the means to get enough nutritious food regularly.
Although the Bible calls us to serve others in everything we do, Pastor Scott also noted that students grow so much in their faith by getting out of their comfort zone, leaving many of their distractions behind, and going on a trip like this to help them focus.
Karla Bovill, another sponsor that went on the trip, said, "We drove in a hot bus. We purposely limited cell phone use. We stretched ourselves with the labor we did. And in the end, I can't say enough how impressed we were, how every student worked great, and how the team came together to serve during our trip."
---