The Gift of Mobility:  A Benevolence Story
Jim Capaldo
Regional President
Church & pastoral health

//

Church strengthening
---
Due to the personal nature of benevolence needs, we typically do not openly report on the specifics of Converge Heartland's Benevolence Fund efforts. However, this story is different and worthy of your celebration and consideration.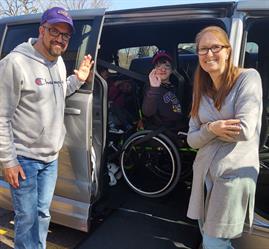 Thomas Slawson serves as a gifted and multi-faceted Pastor of Worship at Faith Baptist Fellowship in Sioux Falls. He has already blessed our district immensely by leading worship at the 2020 Cultivate Conference and speaking at our 2020 middle school and high school summer camps in South Dakota.
Before coming to Sioux Falls, the Slawson family served as missionaries in the Russian Federation, mastered the Russian language, and served to advance the Gospel among the formerly unreached Sakha and Tuvan tribes, as well as in St. Petersburg, where they resided. Along their journey, God has blessed Thomas and Cristy Slawson with a beautiful and vibrant family. Their oldest son, Isaiah, was born with spina bifida, a debilitating condition that requires proximity to specialized medical care.

Isaiah lives life in a sporty wheelchair and makes friends with seemingly everyone. When Isaiah was a young child, he was lighter, and the equipment was smaller, making mobility easier. Isaiah is now a growing teenager and the mobility needs of the Slawson family have grown in step. It has become unrealistic to lift Isaiah into a vehicle, especially for Cristy, who gives full-time care to their four children. The Slawsons have needed a wheelchair-accessible van for some time and have done their best to save to this end.

Recently, limited state assistance was granted to them, affording them just enough for a down payment on a van. Their next task was to try and further pay down the cost to make the monthly payments affordable. Though they had saved, they still needed resources to make a reliable wheelchair-accessible van an affordable reality. Thomas made their need known to the Converge Heartland District. Because of your giving to the Converge Heartland Benevolence Fund, we were able to assist the Slawsons in making a stronger down payment on a slightly used 2018 wheelchair-accessible van. Thank you, Converge Heartland family. The Slawsons are very grateful!

Wheelchair-accessible vans are expensive, and the Slawsons will be making payments on this necessary van for years to come. Knowing their need, we want to help them bring the cost down further; therefore, through April 30, 2021, you may give a designated gift to help further pay down the Slawson van. This family is blessing their church and our entire district. Let's be a further blessing to them by joining in their mobility need. Click here to donate.
Thank you for giving to the Converge Heartland Benevolence Fund!
---