Rural Ministry in the COVID-19 Context
---
Rural ministry was never something I imagined myself involved in when I graduated from Seminary in 1988. And when I came to Sun Prairie Baptist of Rural Salem, South Dakota, 27 years ago, I never imagined being forced to adapt to the kind of ministry practices we have implemented during the COVID-19 pandemic.
There have been learning pains (it's true that it's hard to teach an old dog new tricks), decision fatigue, tension mitigation, and a host of "ah ha moments" and outbursts of "Praise God!"
When the decision was made by our leadership board to cease all church gatherings per state government guidelines, my prayer life and strategic thinking kicked into overdrive. I began to imagine ways to stay connected to our people.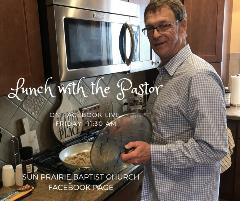 At the beginning, I was praising God for the fact that we had been recording and posting our services on-line for a couple of years already. For a couple of months, we had also been working with a new church management software, making it possible to have multiple options of communicating with our congregation. I had seen several colleagues doing weekly Facebook live Bible studies and thought that could be another way of staying connected. In wondering what that might look like for us, I imagined sharing with people three of my passions: cooking, music, and the Word. So I developed an initial two week schedule: three days a week of simple recipes for parents to try with their children while quarantined, a hymn story and singing with my guitar, and a brief scripture devotional that was focused on the theme of the hymn. Of course, I could not have done it without the help of my wife recording each session, responding to live comments, and laughing at my many mistakes. "Lunch with the Pastor Live" turned out to be a great way to stay connected with many of our people, reconnect with old friends, and make first time connections with others in our community.
In order to provide a worship resource on Sunday morning, Dee (my wife and administrative assistant) and I began recording those on Friday, editing them, and posting to our website on Saturday night. It was exciting to see the number of people viewing these online worship times. It did take some time to adjust to doing music solo with my guitar and background loops and then preaching to an empty sanctuary. A couple of times we invited church members to take part in these by submitting video clips of greetings and scripture readings. At one point we noticed over a thousand views of an online worship service.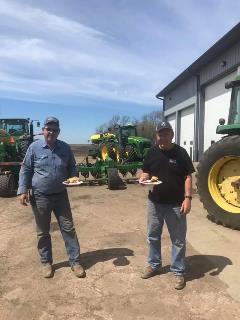 Another method we used to stay connected was taking my grill out to farm fields to grill up some dinner for farmers who were planting. On three different occasions I went to a local assisted living center with my little guitar amp and stood outside open windows to their community room to lead worship.
In an attempt to continue the business and planning of ministry, our boards had quickly moved to Zoom meetings. We even had our first all-church virtual business meeting on Zoom to vote on doing business electronically. If you think it's odd to vote electronically to do business electronically, you're not the only one! However, it was one of our best attended meetings in years, and it was a great way to see people that we hadn't seen in weeks and to check in. A couple weeks later we had a "Zoom Open House" where everyone was invited to just pop on to chat for as long as they liked.
After nine weeks of being "shut down" we decided to begin meeting for worship again with safety measures in place. Our average Sunday worship attendance is about 160. Our first two Sundays back we had around 60 people and have gradually increased each week with over 100 returning to in-person worship recently. We are still waiting to open the nursery and other children's ministries. Our men's Bible study has resumed, and we did a drive-in movie night with our high school students, projecting the movie "I Still Believe" on the side of the church building. We also hosted a Junior High laser tag event on the church grounds. We have had several funerals and even a bridal shower with some precautions in place.
Being a rural community has its own blessings and challenges related to these times. For one, the expectations of what ministry should look like is significantly lower than what many churches have in more populated contexts. When our video quality might only be whatever our cell phone offers, it's not such a big deal. The sense of isolation and distance that already exists gives many of us the presumption that we will be exempt from what the rest of the world is experiencing. Although there is truth to that presumption, we want to be careful to consider the guidance given by our governmental authorities and not to go about life and ministry in a reckless manner. Because of these two realities informing our discussions, we've had some tensions about how to talk about and to proceed through the stages of moving forward. It has been stressful to try and manage that tension.
What I've discovered is this:
On the other hand,
Praise the Lord! He is sovereign, he is faithful, and he is continuing to build his church in this time of uncertainty.
---

---