Following God's call leads young missionary toward Ethiopia
Mike Carr
Communications Director Converge Heartland
---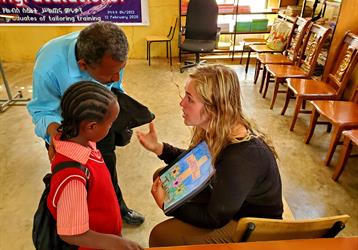 "From a young age, I knew God was calling me to be an international missionary! God began sending me to nations in the Caribbean, Central America, and Asia but there was always a desire in my heart for Africa! After ten years of short term mission work in other areas of the world, God finally sent me to Ethiopia, Africa where my heart felt an immediate connection to this nation, the people, and the work God wants to do there," shared Kendra Michael.
This mission trip to Africa happened in June of 2019 with Central Church and Adams Thermal Foundation. Kendra joined this trip because of an invite from family friends, Mike and Kim Adams. It was on this trip that Kendra met her mentor, Nathan Pruett, a co-leader of the trip. At the time Pruett had just started his new role as the Outreach Pastor of Central Church.
"The first time I met Kendra was in the airport waiting for our flight to Ethiopia. I had heard that she wanted to be a missionary, but knew nothing else about her. One day as we hiked 3 miles up a muddy, washed out road to get to Adams Thermal's more rural school in Ottoro, Ethiopia it clicked for me that there was something special about this young lady. Children flocked to her as we hiked. They were drawn to her smile, kind spirit, and something else, that I can only ascribe to the Holy Spirit. I could visibly see God using her in that moment and knew that this country was her place," recalled Nathan Pruett.
When they arrived back in the States, Pruett brought Kendra onto his team as an intern. They began discussing the next steps for her to move to Ethiopia as a missionary. As they talked about what it might look like for her to live out her calling, some obstacles became apparent.
Being 19 years old, at the time, and single was one of the first challenges for Kendra. As they looked for a team to join, there was none in Ethiopia. Adams Thermal Foundation only has Ethiopian personnel on their in country staff. For a variety of reasons, Ethiopia isn't a strategic location for Converge International Missions. So, it looked like she might have to start in West Africa where it was more strategic and also where Converge teams were located.
As Pruett and Kendra prayed about this opportunity in West Africa and even began to pursue it, there was a sense of unease. Instead of pushing forward, Kendra decided to go to the Lord and sit with him, for a while. It was in that time of listening and being in his presence, that she realized God was calling her to wait.
Pruett originally thought that he would only have one year to train, equip and prepare Kendra through the intern program at Central Church. It was this short timeline that made him feel like he had to engineer an opportunity for Kendra, but God and his faithfulness, provided a second year to the intern program. This was a great thing, because an opportunity at Sioux Falls Seminary opened up for Kendra to be a part of their very first Bachelor of Arts Program through Kairos..
The season of COVID-19, added some additional frustrations for Kendra. She was supposed to lead her first team to Ethiopia in the Summer of 2020. When the world shut down, that became impossible. Once again, Pruett and Kendra found themselves waiting. Just because they couldn't do the ministry they had planned, doesn't mean God wasn't working.
Over the next few months they watched the Lord work and give greater clarity to the future. First, Converge and The Timothy Initiative approached Central Church and asked for resourcing to plant almost 200 churches in Ethiopia. Next, Adams Thermal Foundation was awarded a second non-profit license in Ethiopia to do religious work in the country. And finally unbeknownst to Pruett and Kendra, the college and young adult director at Central Church had it on her heart to start a two year residency program beginning in the year of 2021.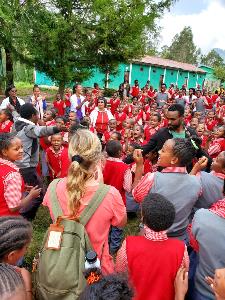 Kendra decided to accept a position in the residency program. Kendra believes that God has some more doors to open for her individual growth as well as opportunities in Ethiopia. This residency program will allow that space for God to work in her and to prepare the right place for her in this nation.
"Though it is hard to wait on the Lord, I know he has something for me during this waiting period. I don't want to go to the field for one year or even ten years. God has a lifetime of ministry in store for me. He has clearly placed time and resources for me to grow and be equipped for just that!" said Kendra.
As you reflect on God's work in Kendra's life and her responses to his leading, take a moment to ask the Lord to show you how he is working through you and in those around you. As you see his work, take a step of faith and raise your level of involvement in His work.
---
Mike Carr, Communications Director Converge Heartland
Lives in Sioux Falls, SD and attends Central Church. Missionary for 31 years.
Additional articles by Mike Carr