Between the Mile Markers; Growing the Next Generation
Jim Capaldo
Regional President
---
My life is filled with mile markers. During our last fiscal year, our staff rolled past more than 42,000 mile markers in service to our District churches and ministers. Sometimes miles are marked silently by an odometer, sometimes they are noticed alongside the road, and other times we see them celebrated by state-line welcome signs…or other historically head-shaking Heartland attractions like Wall Drug (SD), Carhenge (NE), the World's Largest Ball of Twine (KS), or the World's Longest Piece of Seamless Steel Siding (ND). Mile markers usually help us keep track of where we are, how far we have to go, and how far we have come. However, I have found that life-change stories are rarely found at the mile maker, these are typically found in the relational journeys between the markers. I imagine the same is true in your life and in your church.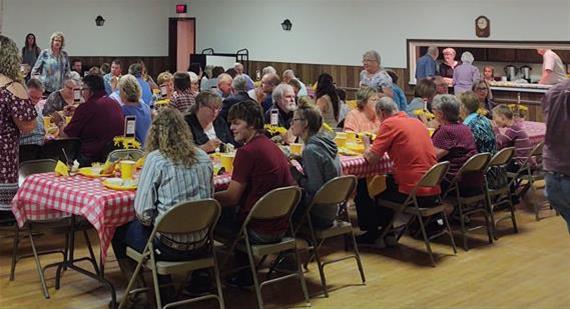 I was recently reminded of this at High Prairie Community Church's (HPCC) dedication service in Polk, NE. Just a couple of years ago, I was blessed to facilitate the consolidation of the Polk Evangelical Free Church and First Baptist Church of Polk. These historic churches had been ministering to their rural community for over 100 years before they came together to form HPCC. As pandemic challenges eased, Pastor Justin Smith and the HPCC leadership planned a belated and highly anticipated dedication service. I was honored to participate.
The dedication service was a fantastic and celebrated "mile marker" of God's working through his saints in Polk, NE. However, testimony after testimony focused their attentions on the faith journey between the mile markers. As a multi-generational gathering shared their experiences of spiritual development and life change, the vast majority pointed to a variety of Sunday school teachers who had profoundly impacted their lives by serving as relational and living examples of the applied truth of God's word. Now just take that in for a moment. Would this not also be true for many of us? Who have been your primary spiritual mentors?
As we journey between the mile markers and further into a school year, let us develop, resource, and encourage our children's and student ministry leaders, teachers, and volunteers. Let us celebrate the equipping of parents for discipling their children. Even in the face of challenge and fatigue, let us earnestly continue the good work of intentionally raising up the next generation of Christ-following leaders. The mile-marking words of Hebrews 13:7 rang honorably true at HPCC's dedication service, and it hopefully does in your church as well, "Remember your leaders, those who spoke to you the word of God. Consider the outcome of their way of life and imitate their faith."
---