Report from the Chairman of the Board

It is my privilege to serve as Chairman of Converge Heartland Board of Overseers. The board is comprised of several pastors and laymen from Converge churches across our region. I truly appreciate the commitment these individuals and their families have made as they have taken on the responsibility of overseeing the many ministries within our district. It is a blessing to serve with such spiritual leaders.
As the Board of Overseers for the Heartland district, we meet quarterly in order to conduct business matters and advise the staff of the district. We also take time to pray for each other, as well as individuals and churches within the district.
I would like to personally thank the entire staff of the Heartland district as we are blessed with an amazing group of individuals that are talented, enthusiastic and committed to serving the Lord. I am confident we have the right group of people to expand God's kingdom in the Heartland and beyond, while maintaining a fantastic support system for the churches of our district.
Some highlights of our work this year include:
The board worked closely with the financial staff in order to maintain a healthy financial position.
We responded to many churches and communities dealing with extraordinary rainfall last spring.
We engaged with churches that showed interest in affiliating with Converge.
We discussed youth camps and mission trips and how to best engage with that ministry.
We continued to research and discuss new revenue sources for our district.
We engaged in the process of revising the By Laws of our district.
We discussed how we can support and engage with LEAD teams throughout the district.
We discussed how we can develop and support new LEAD teams.
We prayerfully considered and supported new Church Plants and discussed the future of church planting in the Heartland district.
As Chairman, I want to personally thank those who have served on the Board of Overseers this past year. It is a blessing to serve alongside an amazing staff and a dedicated group of men on the board of overseers. I am grateful and humbled to be part of such a strong group of leaders and I am very excited for the future of our district as we move forward under God's direction.
Respectfully submitted,
Jon Frick
Chairman
District Board of Overseers
Nate Holdeman, Northridge Baptist Church in Mitchell, SD
Curtis Tschetter, GracePoint Church in Ogallala, NE
Jon Hawkins, Arbor Drive Community Church in York, NE
Fred Gackle, Kulm Baptist Church in Kulm, ND
Dr. Larry Caldwell, Converge & Sioux Falls Seminary in SD
Brian Fite, Calvary Baptist Church in Platte, SD
Jon Frick, River of Life Community Church in Canton, SD
Jon Vinter, Overland Hills Church in Papillion, NE
District Executive Minister Report
RESILIENCE

Converge Heartland's resilience was tested over this past year, and by God's grace, we persevered! As a district we endured unforeseen transitions, natural disaster, tragedies, and the loss of some beloved district champions. Through it all, our district churches sacrificially served and gave to meet urgent needs.
Over $30,000 was given towards disaster relief.
Over $39,000 was given towards district benevolence (plus Go Fund Me gifts).
Fiscal Year 2019 ended in the black by $3,679.71.

TRANSITIONS
This past year was a year of transitions as well. Not only was this the theme of the 2019 Converge Heartland Pastors' Renewal Retreat in Omaha, but it was also the felt theme in many district churches.
Five new senior pastors were placed in Converge Heartland churches
Four Converge Heartland churches completed a consolidation or merger
Regarding our district staff, we also experienced some staffing changes.
Dr. Greg Friesner is now serving as the Director of Incarcerated Ministries and Lead Pastor of Prison Lighthouse Fellowship in Sioux Falls, SD
Christy Marino, from Hastings, NE, is now serving as our Finance Assistant.
Steve Krier, Lead and Founding Pastor of Ignite Church in the Fargo/Moorhead metro area is being brought on as Director of Church planting.

LEAD TEAMS
These are monthly regional pastoral gatherings that serve to encourage and equip pastors while also working together toward the starting of new churches. This year we saw two LEAD Teams relaunched for pastors in South Dakota and Western Nebraska.

EXPANSION
We are headed toward District expansion. The greatest stage of growth in our district was when new communities were being formed between 120 to 150 years ago. Today, we have new, underchurched, and ethnically diverse communities being formed due to urbanization. We must target these areas for expansion. As an example, our newest church additions are either in or on the outskirts of urban areas.

Harvest Plains Church in Casselton, ND, a bedroom community west of Fargo.
Gospel Life Church, a church plant in Wichita, KS
Ignition Church, a newly affiliated church plant in Bennington, NE, just north of Omaha
Our District currently has 62 churches and with our district's stable posture, I believe that, by God's grace, we can see our district grow to 80 churches by 2025 and beyond 100 by 2030. Let's press towards this, by faith, so that we might better realize our district vision of seeing a gospel-centered church bringing transformation to every Heartland community!
He is worthy!
Rev. Jim Capaldo
Converge Heartland District Executive Minister

Church Planting Director's Report

FY19 saw the advancement of several recent church plants and campuses. New church plants in Wichita, KS, and Casselton, ND, are being developed, and a church plant in Bennington, NE, has recently affiliated with Converge Heartland. An FY20 priority is to in-crease our church start up giving through our regional LEAD Teams. "It is my hope that every person answers the call to making disciples and that every church knows the joy of playing a part in the planting of another church."
Steve Krier
Converge Heartland Director of Church Planting and Founding/Lead Pastor of Ignite Church in the Fargo/Moorhead metro area
New Church Plants to Highlight
Gospel Life Church in Wichita, KS
Church Planter: Chase Hill
Public Launch: Spring 2020
Harvest Plains Church in Casselton, ND
Church Planter: Cody Weckerly
Public Launch: September 2019
Student Ministries Report
District youth leaders met twice last year for networking and collaborating. These gatherings helped us work together, discovering the different dynamics of youth groups throughout the district. We look forward to continued collaboration throughout the district.

Overview
High School Camp
Middle School Camp
New Camp in Missouri
Youth Leader Network Gatherings
SD/ND Youth Mission Trip in 2021
NE/KS Youth Mission Trip in 2020
Incarcerated Ministries Report
The biblical mandates of making disciples and visiting those incarcerated are being fulfilled through the Converge Heartland Incarcerated Ministries. "Prison Lighthouse Fellowship is a beacon of Light (John 12:46) that shines in a place that is engulfed in darkness." -- Joey Charron (Inmate Church Board Member—PLF)
Dr. Greg Friesner
Director of Incarcerated Ministries
Lead Pastor of Prison Lighthouse Fellowship
Jameson Annex in Sioux Falls, SD
Minnehaha County Jail

Rev. Harlan Moss
Pastor of Prison Outreach
Prison Lighthouse Fellowship
Jameson Annex in Sioux Falls, SD


District Events and Calendar
District & National Events
SEP 12-13: Cultivate Conference
NOV 5-7: Ignite Conference
NOV 8-9: Reignite "Boomer's" Retreat
JAN. 25: ResGenMen's Summit @ Central
JAN 29-31: Unleash Conference
FEB 3-5: Bethlehem Conference
MAR 2-4: District Prayer Gathering
MAR: 5-7: Teaching the Epistles
MAR 26-27: Church Planters Retreat "Pre-Con" Retreat
MAR 27-29: Pastors' Renewal Retreat
APR 24-25: Women's Retreat @ Lied Lodge
JUN 21-26: Sr. High Camp Judson in SD
JUL 19-22: Miracle Hills Ranch Camp in MO
JUL 26-31: M.S. Camp at Swan Lake in SD
LEAD Team Gatherings
Eastern NE: 2nd Wed. of the month (402) 660-5174
Central NE: 2nd Tues. of the month (308) 850-7856
Western NE: 4th Thurs. of the month (308) 289-6383
East River SD: 1st Wed. of the month (605) 261-0288
KC & KS: TBD North Dakota: TBD

Board of Overseers' Meeting
DEC 10: Quarter 1 Board Meeting (Zoom)
MAR 6-7: Quarter 2 Meeting/Board Retreat
MAY 12: Quarter 3 Board Meeting (Zoom)
AUG 11: Quarter 4 Board Meeting (Zoom)
Church Planting Assessment Dates
GO TO:
Treasurer's Report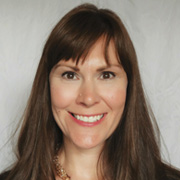 The district finished the fiscal year in a good financial position. The general fund increased by almost $3,700 this year, despite unforeseen challenges. The reserved funds also increased this year by almost $10,400. These increases, combined with adjustments to cash such as church planting loan repayments, increased our cash on hand by over $31,400.
2019 Converge Heartland Treasurer Report
FY19 Converge Heartland Statement of Financial Position
FY19 Statement of Activity - General Fund
FY19 Statement of Activity - Reserved Funds
FY19 Budget vs Actuals - All Funds
Christi Wittrup
District Office Manager and Treasurer

FY20 Budget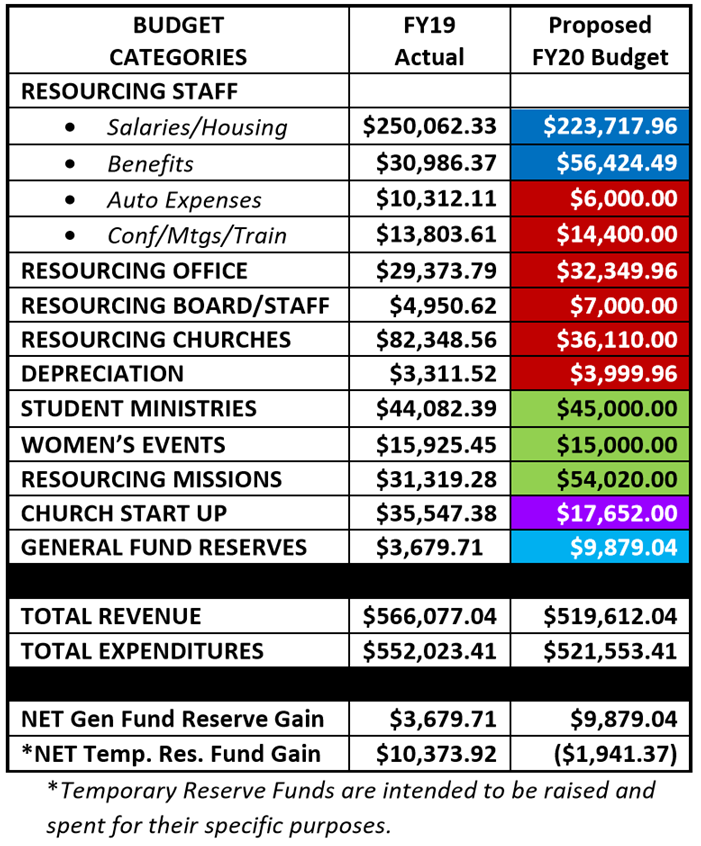 8 Key Financial Assumptions for FY20

The down Ag Economy is affecting our district, but we are healthy
Most churches are in a conservative financial posture
We should conservatively budget church giving in FY20
Our FY20 revenue growth option is in value added services
Church planting is best funded through "mother churches"
Converge Heartland has some pregnant churches
LEAD Teams must financially "own" church planting in their region
We can grow to 100 Converge Heartland Churches in 5 10 years!
District Giving Strategies For Your Church
Make Converge Heartland its own line item, outside of your church's mission's budget. ( 2% to District
Operations and 1% to District Church Planting)
Designate 1 or 2 of your monthly Benevolence Offerings to Converge Heartland's Benevolence Fund. This is to
assist our pastoral families.

Leading a church can be complex, but I have a network of people from churches all around the country who are in my corner. You're never alone when you're a part of Converge.
Ben Payne, Northridge Baptist Church, Mitchell, South Dakota