Churches collaborating to make a global impact
Ben Greene
Pastor & writer
---
The hardships of poor believers in Jerusalem stimulated unforgettable generosity in the churches of Macedonia, even though the two groups of believers were more than 1800 miles apart.
In the first century of the church, the churches of these cities likely never met. They probably never even corresponded other than by messages through the apostles and Christian leaders.
Chuck Lewis, who stirs Converge churches to form consortia who pray and work together on significant, shared priorities, sees today's church acting like the churches of Macedonia. Such cooperation in a massive project that likely took years of planning, saving and giving among God's people didn't end in the first century.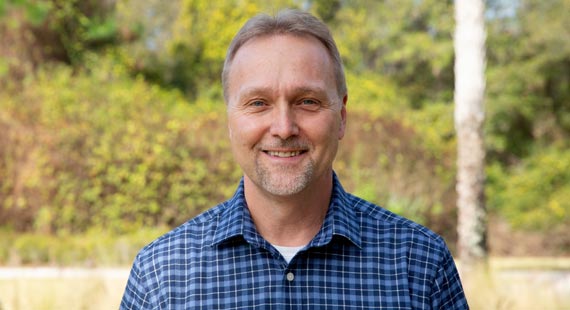 "There's power in fellowship," he said. "You can go longer and you can go deeper if you create partnerships."
Last year, Lewis sketched a diagram of how consortia work on a small piece of paper for Barb Ehlers. She still has the paper.
"I'll always have it," she said. "When he drew that out and I got to see and catch that vision for the consortia and that new model of a missionary, that's when I knew this is what I wanted to do."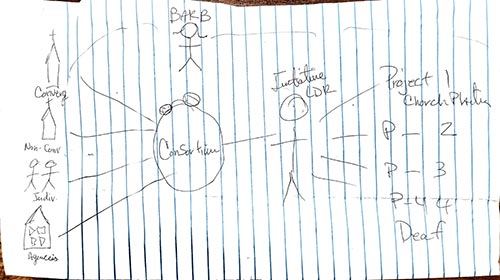 How a consortium works together
The team on a missionary's consortium has the same heart as the global worker — make disciples among least-reached peoples within one generation. However, Lewis and Ehlers explained that the consortia mean people can work according to their gifts and location to maximize impact for God's will.
"That's what excited me," Ehlers added. "God could use me fully in my giftedness to be able to be an advocate for the missionary and keep them facing the mission field where their calling and gifting is."
For example, a government recently invited a Converge global worker to do a soccer clinic. The person only had a small window of time to decide whether to say yes or no to the government invitation. Adding to the challenge was finding $3,000 to buy soccer balls on short notice.
In this case, the global worker reached out to their consortium's executive team for help. The consortium's executive team connected with all the churches that are passionate about and praying for that region. That team raised the money for the soccer balls in one afternoon.
They all want to see disciples made so they work together according to their giftings to support the global worker. In the last few decades, businesses started the consortium concept by working together for a defined time on projects beyond any one company's capabilities.
For global workers, the consortium approach means a team in the states engages the global workers' partners with communications, prayer needs and planning. As a result, international servants can prioritize watching for God's activity, and say yes more often, Lewis added.
"We're trying to enable our missionaries to move very efficiently on the field," Lewis explained.
Consortia offer more people a role in missions
The historical model for missions — applied to the same invitation for a soccer ministry — would require the missionary to send out dozens, or perhaps a few hundred, letters to churches and individuals asking for financial support. Managing those responses and requests would take the servant's time and energy, reducing their focus on least-reached peoples.
Moreover, the historical model means the missionary has to own all aspects of the ministry at all times. In other words, the global worker performs capital fundraising, initiates new projects, plans short-term and long-term mission trips for other believers and tries to discern where God is leading them.
On the other hand, under the new consortium model, a high-capacity executive team becomes the supply line for a global worker serving among the rapidly changing needs of the field.
Related: 50-plus churches laboring among major changes in Ukraine
The new concept of consortia rises on an eternal foundation
Converge International Ministries started consortia in 2019. The goal is to unite North American churches with common passions for prayer and missional effort toward the least-reached peoples of the world.
The strategy, a complement to historical missions, aims to help churches best utilize resources when different congregations love and serve the same least-reached peoples.
Praying together is the first major act of the consortium. As Lewis started catalyzing consortia throughout Converge's 10 regions, the pandemic began and gathering became impractical. However, God quickly showed Lewis that prayer was always available to consortia.
In early 2020, Converge had three prayer networks attached to consortia. By year's end, there were 19 prayer movements among churches that share a passion for specific least-reached peoples.
Lewis said there's a constant effort to expand prayer networks. The least-reached peoples are in that spiritual condition, Lewis explained, because of strongholds that global workers can't overcome without prayer.
"You've got to bathe this thing in prayer," he said. "That's what's going to give us a breakthrough on the field."
Co-laborers among the least-reached come from all types of churches
Lewis and Ehlers know that consortia are a new idea to many churches that have a long, honorable heritage of missions. What God is creating through the new concept means people of all spiritual giftings and any size church play a vital role in global work.
For example, a person who is a mechanic or a housewife has tremendous potential to be part of missions. The Bible teaches that spiritual gifts come from the Holy Spirit. Moreover, God fashions every person with abilities and talents that can be used in today's global work.
"We're trying to expand everybody's way of thinking about missions," Lewis said. "Let's not limit God or our abilities."
The same is true for churches whether small or congregations with multiple staff and numerous local priorities besides their passion for global mission. A passion for reaching those far from Christ can be successful for churches that have used the historical model and may adapt to the consortia concept.
"Our heart is to partner with what a church is already doing and come along to support them," Ehlers added.
Converge's U.S. Engagement office, which includes Ehlers and Lewis, has a 2:10 Focus process. In that process, a Converge coach will come alongside a church in a strategic journey of reflection and decision-making. When the 2:10 work is done, the church will be part of a network of churches. Then, they can work together with precision and clarity for the path forward in impacting a people group.
Related: The 2:10 process has benefited several churches so far. Read about their experience.
A church of about 60 people in the upper peninsula of Michigan has planted 60 churches in India and Mongolia. That church, Lewis said, sends pastors to those countries and brings pastors from those countries to the U.S.
"It doesn't matter how big your church is or how small," Lewis said. "God can use your church."
The work of God in Estonia proves this to Ehlers. A global worker there, Beth Ann Erickson, focuses on troubled youth. There are churches in the U.S. that love Estonia, so they pray for the Northern European country and stay focused on a least-reached people group.
Related: God orchestrates something powerful and unexpected in Estonia
For example, Erickson needed a lawyer to help her with purchasing property in Estonia that could be a space for ministering to youth. Erickson reached out to her consortium of churches eager to serve the small European country. A contract lawyer who worshiped at one of those churches ended up donating legal advice and creating a contract for a property.
"That builds momentum in the church itself and helps the church catch a bigger purpose in the world," she said.
Many hands make light work
The joy and generosity of the early church in Macedonia overflowed into a generous offering of financial resources, hand-delivered by the Apostle Paul. The benefits to the impoverished disciples in Jerusalem aren't recorded in the pages of Scripture as clearly as the generosity.
Even so, Christ's earliest followers in one geographic area collaborated on behalf of people nearly 2000 miles away. That organization and love-in-action brought churches together while displaying the power of God to the people in need.
"When churches have a vision and a focus, when they start working together, it becomes a big collaborative power that people can harness," Lewis said. "We're going to get it done and do it together."
Converge is asking God for a gospel movement among every least-reached people group – in our generation. Learn how we are playing a role in accomplishing the Great Commission and how you can be involved.
---
Ben Greene, Pastor & writer
Ben Greene is a freelance writer and pastor currently living in Massachusetts. Along with his ministry experience, he has served as a full-time writer for the Associated Press and in the newspaper industry.
Additional articles by Ben Greene

---